SERVICES RECEIPTS
Photographs are a medium by which you create special memories for an important occasion of your life. Special occasions like graduation, birthdays, births, weddings etc. are made unforgettable by these photographs. You can see these photographs later on in life to remember these special times as if they happened yesterday.
Hiring a professional photograph makes these photographs more special and memorable. Like all services, a photographer charges you for his services by using a receipt. This receipt is called a photography receipt. The receipt is used as a proof of payment for record keeping by both the photographer and the client. If you need photo editing done to your photographs then those charges are also mentioned in the receipt.
RECEIPT TEMPLATES
The photography receipt template holds the name and address of the client, name of the studio, name of the photographer, telephone numbers of both the photographer and the customer. Along with this information the details of the event like the name of the event, the venue of the event, the timing of the event etc. Apart from all this detail, the package chosen by the customer is mentioned in addition to the fees of the complete photo shoot, the number of rolls to be shot, the number of printouts to be provided and the charges of each printout and the size of the printout is also mentioned. The template available on this website has a lot of options regarding the fields you might need. You can choose a template and insert the logo of your studio and use it.
PREVIEW & DETAILS OF TEMPLATE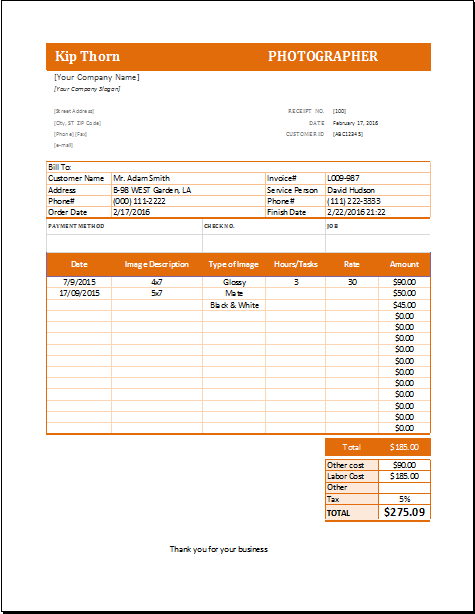 File: Excel (.xls) 2007+ and iPad 
Size 40 Kb   | Download
File: OpenOffice (.ods) Calc [Cal]
Size 21 Kb   |  Download
License: ENERGY  (personal use only)
(Not for Resale & Distribution) by Kate Elizabeth(CEO)