Petty cash refers to a small amount of money on hand for official use. It is an accessible cash store maintained by business organizations. Small expenditures can be covered through this amount. This eliminates the need to write a check and make a bank withdrawal. However, just like the sum of money stored in a bank, a proper account must be maintained for petty cash.
This job is assigned to a reliable employee or accountant who is referred to as the petty cash custodian. He or she is answerable to the authorities for all the withdrawals made from this store. Likewise, any deposits made to the petty cash box must also be recorded.
A well-organized manner of accomplishing this task is through a petty cash log. It is used to register all the important transactions made through the petty cash. Day-to-day expenditures, as well as deposits, are recorded.
Before maintaining this log, it is essential to be familiar with important relevant terms. For instance, petty cash float. It is the maximum amount of money deposited in the petty cash box at the beginning of each business day. Any withdrawals can be refunded the next day. On the other hand, cash payments made by clients which exceed the float amount are deposited into the official bank account.
Another important term is petty cash voucher. It is a small slip of paper which is used to record a single transaction. Printed vouchers turn out to be more useful as compared to blank pieces of paper. This is because important information, such as the date, can be missed in the case of latter. However, with properly formatted vouchers, all pieces of information can be recorded neatly in an organized manner.
These vouchers can then be used to make entries in the petty cash log at the end of each business day. In this way, the entire process becomes simplified. The chances of making mistakes are reduced. Undoubtedly, this job requires absolute focus. It has to be carried out responsibly and dutifully. Things can be made easier with the help of a pre-made petty cash log available online.
Preview and Details of Template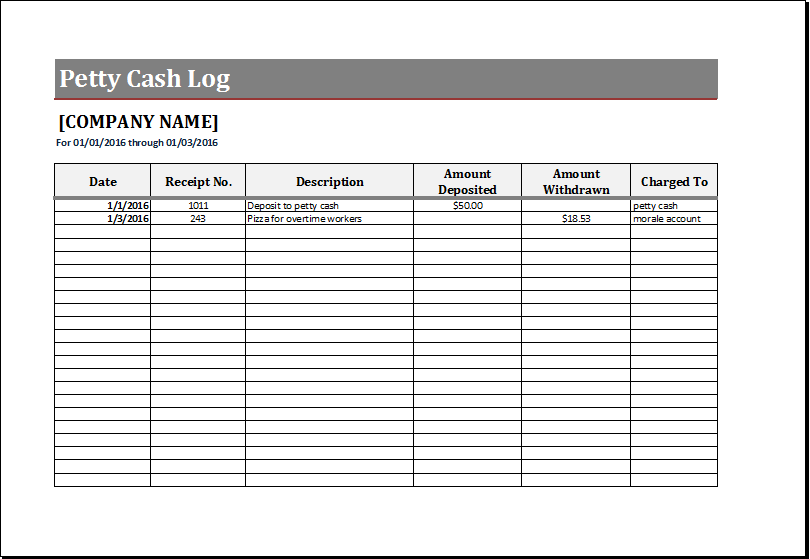 File:Excel (.xls) 2007+ and iPad
Size 31 Kb   |  Download
File: OpenOffice (.ods) Spreadsheet [Calc]
Size 16 Kb   |  Download
License: ENERGY   (Personal Use Only)
(Not for resale and distribution) by Kate Elizabeth(CEO)