Personal Development Planner Template
Personal Development
Develop your personality flaws and improve to present adequately by using Personal Development Planner Template. Development of oneself is of great importance. For ages, people have been finding ways to make themselves the perfect person but of course no human is perfect. There are always some flaws in a person that you would want to correct right away and for that, the use of personal development planner is of great use.
How to use personal development planner:
The help given to any person by the personal development plan is that you will be able to take your progress towards improvement step by step. The development of the one's personality and as well as the elimination of flaws can only be done by the person if you are self-helping yourself. The best thing is that you formulate the proper plan to do so and for this, you need the planner.
This is why we have provided you with the template that is quite good for you to take help from in your development. The planner template is just made so that you get the idea of how to self-help yourself. It is necessary for you to make improvement in your personality as the time progresses because it is the only way we behave and act that separates us from the animals. All the process of self-help is regulated by the first step and for you, we have provided the personality development planner as the initial point from where you will start helping yourself and progress to the top of success and near perfection.
Preview and Details of Template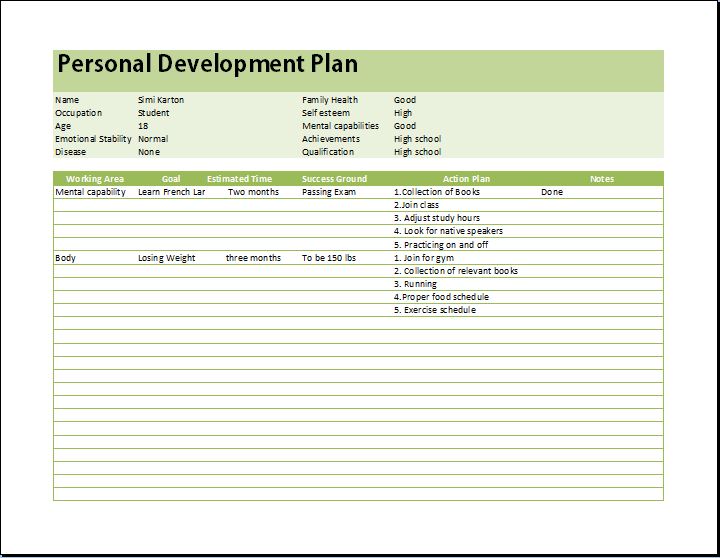 File:Excel (.xls) 2007+ and iPad
Size 22 Kb   |   Download
File: OpenOffice (.ods) Spreadsheet [Calc]
Size 22 Kb   |   Download
License: ENERGY   (Personal Use Only)
(Not for resale and distribution) by Kate Elizabeth(CEO)