Patient Medical Progress Notes
Medical Progress Notes Template
When an individual has undergone some kind of treatment or a procedure, the progress made after the procedure/treatment needs to be documented in a proper way to ensure that the recovery is taking place as predicted and there are no complications.
The documentation usually is done by the concerned doctor, or the nurse on duty in the form of notes. These notes mention the patient's vitals that include Blood pressure, heart rate, temperature, sugar level and etc. More than often the nurse on duty or doctor on call scribble down notes so that when the specialist doctor comes, he/she just tallies and mentions his/her own notes.
The progress notes should be documented date and time vise. Below the mentioning of the date and time, the notes should be divided into three columns. The first should mention the problems that have been found. The second column should be dedicated for the findings with respect to the problems and the third should mention if certain tests were run or should be run.
The medical progress notes need to be documented properly and in an orderly fashion to ensure that there is no complication with the patient's health and in case of a complication, proper measures are taken. The patient progress notes ought to be written in a clear writing and in the specific patient file so that both the hospital or the medical institution and the patient should have a copy as well. Every little thing and every major thing should be recorded line by line.
Preview and Details of Progress Note Template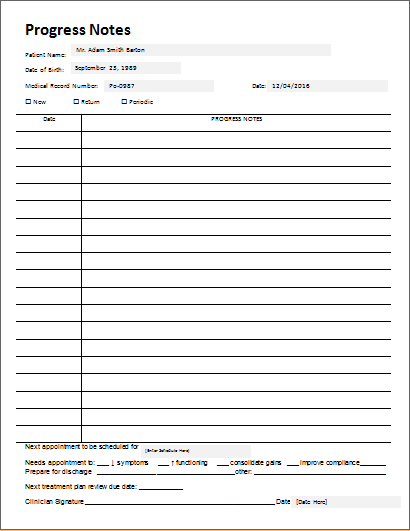 File: Word (.doc) 2007+ and iPad 
Size 38 Kb   |   Download
File: OpenOffice (.odt) Writer [writer]
Size 26 Kb   |   Download
License: ENERGY  (Personal Use Only)
(Not for resale & distribution) by Kate Elizabeth(CEO)