Party Arrangements Checklist Template
Party Arrangements Checklist
Most of us love partying and planning events for families to enjoy memorable moments with our loved ones. But arranging a party is not that easy, especially if you can't remember all the small tasks that need attention. For people who are looking to arrange an exciting party at home or anywhere else, Microsoft Excel brings a wonderful solution in the form of Party arrangements checklist template.
About Template
A Party checklist template is an impressive tool for party organizers. It helps you in organizing a perfect event where no stone is left unturned. It allows you to remember and organize a great number of things such as invitations to friends and relatives, arranging quality food and beverages for guests, decoration ideas for an impressive event, clothing ideas to make you stand away from the crowd, lightening ideas to put up an impressive show, songs, cameras, computer work and many other important details which are normally missed due to workload. Through this impressive tool, you can become a competent coordinator of your own event. It saves you a considerable time which you can utilize with friends while enjoying each and every moment of the party.
The party arrangements checklist template designed in Excel helps you stay in control throughout the party phase. It covers everything ranging from food, music, decoration to inviting guests and catering all their needs satisfactorily. So, if you're planning to arrange a party, then the given template can surely be a wonderful tool for all your technical needs. Just download it, provide details and let it do all the work for you.
Preview and Details of Template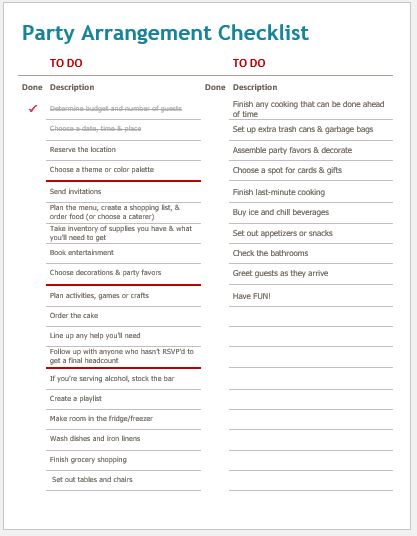 Party Arrangement Checklist -2018
File:Excel (.xls) 2007+ and iPad
Size 29 Kb   | Download
---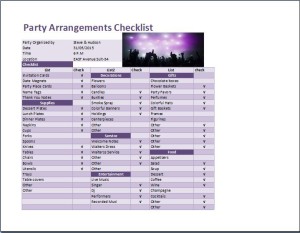 File:Excel (.xls) 2007+ and iPad
Size 29 Kb   |    Download
File: OpenOffice (.ods) Spreadsheet [Calc]
Size 28 Kb   |    Download
License: ENERGY   (Personal Use Only)
(Not for resale and distribution) by Kate Elizabeth(CEO)