Outdoor Camping Checklist Template
Camping Checklist
Outdoor adventure and camping plans with families and friends are always a great source of joy and happiness. During this time, you get time to spend with your loved ones and see the joy on their faces. But before you move on, it is very important for you to follow the camping checklist in order to arrange a safe and secure camping trip for your family.
A comprehensive checklist provides great benefits for your wonderful camping event. It ensures that all your required supplies are included in your backpack before you leave the house. A proper checklist can increase the fun of your planned trips as it eliminates any chances of missing important and fun stuff from your inventory.
About Template
A camping checklist template is a wonderful tool which can arrange, organize, update and remember all your important stuff which you need during your scheduled trips. You just need to enter specific information related to trip and it automatically updates the data and keeps you on track regarding your camping needs. This is a great way to reduce burden by automatically getting informed on your camping supplies.
A camping checklist template can help you remember lots of important stuff such as:
Tents, ground clothing, nails, hammer
Sleeping bags, air pumps, pillows
Large water containers, ice boxes, stoves, charcoal, BBQ grills
Utensils, towels, soaps, cups, napkins
Boots, jackets, T-shirts, rain gear
First aid box, phones, flashlights, whistles
Sunglasses, Radio, sunscreen, candles, extra batteries
And lots of other useful stuff for your camping needs.
 Preview and Details of Template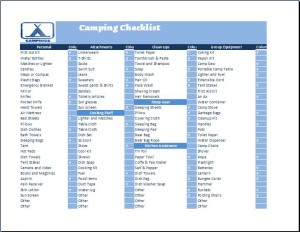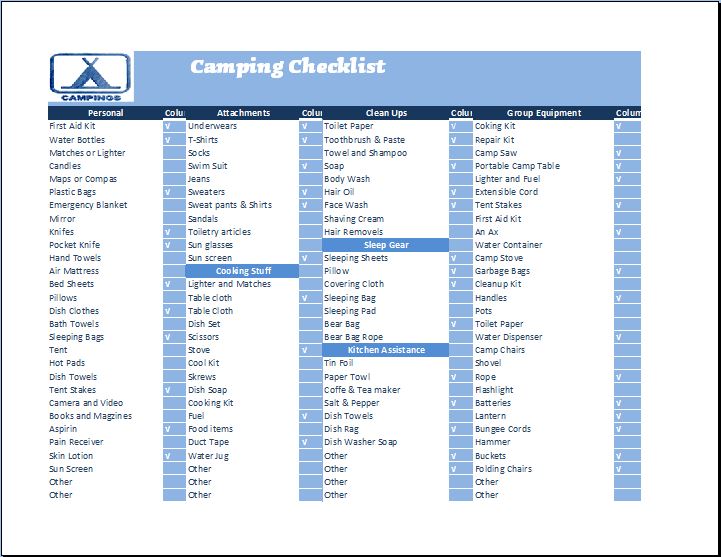 File:Excel (.xls) 2007+ and iPad
Size 50 Kb   |     Download
File: OpenOffice (.ods) Spreadsheet [Calc]
Size 39 Kb   |    Download
File:Word (.doc) 2007+ and iPad
Size 95 Kb  |     Download
License: ENERGY   (Personal Use Only)
(Not for resale and distribution) by Kate Elizabeth(CEO)