Official Birth Certificate Template
Birth Certificates
Birthdays mark the auspicious day for the parents who bring a new life to this world and this divine day leave a delightful impression on their minds forever. This is a day when every parent would want to etch it into gold. This is where the idea of wonderful birth certificate strikes the mind as it is the one way to show the appreciation towards the gift of the Lord.
This birth certificate template is the one that would add color to the perfect day of anyone's life. Playful fonts and simple yet thoughtful wording would capture all the important data of the day and the joyous moments that a birth brings along with it. The place of birth, time of this godly moment when the child took his first breath in this world and the names of the people who played important role in bringing him/her to this realm, all will be mentioned on the template.
The birth certificate template would help you seize the moments on paper and this will become a record for years to come. The first gift to your child is love and this free template would show it very clear that every detail of his/her birth was put thought into even the time, place, doctor, midwife and much more. Any changes in the template are also done according to the requirement so that you could create a perfect document that would grab hold of all the sincerity and affection on the piece of paper that you experienced at that opportune moment.
Preview and Details of Template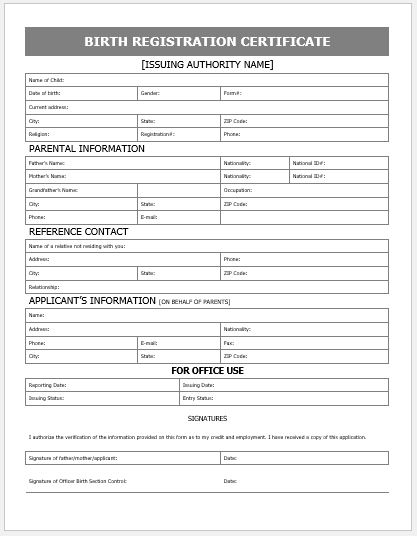 File:Word (.doc) 2007+ and iPad
Size 29 Kb   |   Download
File: OpenOffice (.odt) Writer [Writer]
Size 36 Kb   |   Download
License: ENERGY   (Personal Use Only)
(Not for resale and distribution) by Kate Elizabeth(CEO)