Official Appointment Schedule Template
Official Appointments & Schedule Templates
Usually, an individual has various appointments in a week. They can be a doctor's appointment, a hairdressers appointment, an appointment where you need to pick up something or need to be at a place to conduct an errand and etc. Some of these appointments are such that they cannot be rescheduled and one needs to attend them at any cost.
Often when there are many appointments in a day or a week, one forgets that which appointment is which and when is it. Which makes the scheduling of another appointment difficult? To make sure that your appointments are remembered by you and you don't have any difficulty in scheduling or adding more appointments, it is best to have an appointment scheduler. It helps in keeping track of all the appointments and makes you feel organized and mentally prepared.
An appointment scheduler should be made in a table format and should be divided according to in days. For example, each column could be denoted for each day of the week, whereas each row could serve as time periods, like from 9 am till 10 am.
You can also make it vice versa. Just make sure that you note down each entry clearly along with the specific time. You can use various colors when noting down entries to mark the importance. If you want, you can always leave some space at the end of the table for any notes or any comments that you may have. Just make sure not to make it messy as it would refute the whole point.
Preview and Details of Template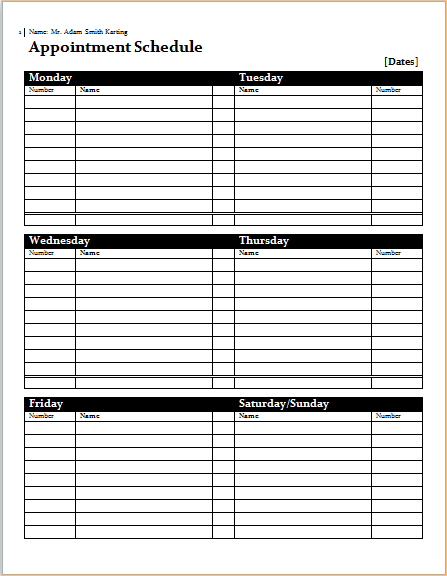 File: Word (.doc) 2007+ and iPad 
Size 268 Kb   | Download
File: OpenOffice (.odt) Writer [Writer]
Size 16 Kb   |   Download
License: ( General Use)
(distribution) by Kate Elizabeth(CEO)