No Objection Certificate Template
No Objection Certificates
No objection certificate – known more commonly as NOC in short – is an important official document which provides authority or permission to an individual or organization to perform a certain task. It is a legal certificate issued by relevant agencies or individuals. For instance, a No Objection Certificate is required to get permission from the government to construct a building. An NOC may also be requested from an employer while switching to another job. It, therefore, carries immense importance for different types of legal tasks and procedures.
Like all other types of legal certificates, a No Objection Certificate follows a specific format. For this purpose, the Certificate Templates are available which can be used by any organization or individual upon request by someone. In general, the certificate consists of a precise written description of the purpose the specific NOC. It includes the name of the agency granting the certificate as well as that of the individual or organization receiving it. In a template, the spaces for names and signatures are left blank. Many copies of a single template can be printed to be used whenever needed.
Using a No Objection Certificate Template saves a great deal of time. Copies of the template can be made and used whenever required. Individuals can either make modifications to this template or use it as it is according to their specific needs. NOC templates for different purposes are available on the internet. Agencies can download and print the templates and use them without any hassle.
Preview and Details of Template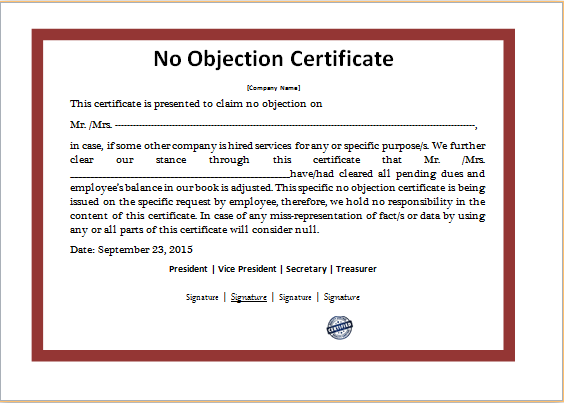 File: Word (.doc) 2007+ and iPad 
Size 39 Kb   |  Download
File: OpenOffice (.odt) Writer [Writer]
Size 32 Kb   |  Download
License:  ENERGY (Personal Use Only)
(Not for resale and distribution) by Kate Elizabeth(CEO)