New Year Event Party Flyer
New Year Event and Party Flyers
New Year is an extremely festive time of the entire year. Everyone looks forward to the festivities and celebrations. There are parties at your neighborhood as well as in your office. In addition, your entire city seems to be in a very joyful mood. Those who arrange New Year parties can send out invitations through New Year event flyers.
Such flyers are particularly useful for office events. The entire staff from the top management to lower grade employees can be informed about New Year events through flyers. It is a great way of sending out an open invitation in an economical way. Similarly, such flyers can also be used by owners of eating outlets who have arranged special events for the New Year.
Potential customers can be attracted by creating eye-catching flyers which promise a great evening. It is a great way of carrying out promotion and increasing sales.
New Year event flyers can be created easily without investing too much time or money. There are a plethora of free templates available on the World Wide Web. Most of these templates are free and come with customization options. Users can avail these options to give their flyers a personal touch. Make them more attractive, add relevant information and include a special message.
These steps are going to ensure that a large audience is attracted by the flyers. This is one of the best ways of sending out open invitations or advertising a place. It is very easy to distribute flyers among the masses.
Preview and Details of Template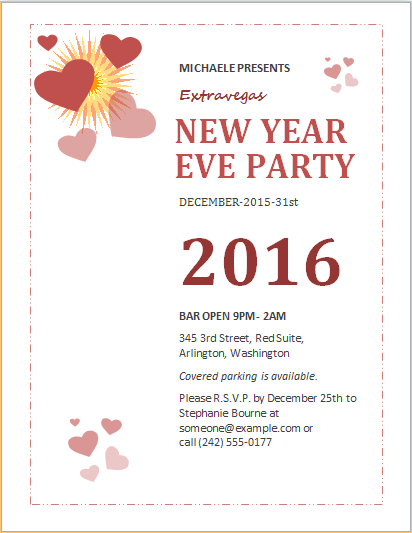 File: Word (.doc) 2007+ and iPad 
Size 71 Kb   |  Download
File: OpenOffice (.odt) Writer [Writer]
Size 25 Kb   |  Download
License: ENERGY  (Personal Use Only)
(Not for resale & distribution) by Kate Elizabeth(CEO)