New Year Customer Survey Form
Customer Satisfaction Questionnaires
The most significant asset for an organization is their customer base. This asset needs to be satisfied and pleased to the fullest by providing products and services that satisfy their needs. Knowing what your customer wants and what they think about your service can be achieved by conducting a customer survey. This survey is a means of giving a platform to your customer where they can voice out their opinions and their concerns.
Every year, an organization conducts a New Year customer survey that helps it to better understand the expectations and needs of a customer, along with making changes to its operations and product line. It is best that a company uses a template for such surveys which would make conducting the survey easy. This survey should encompass details about the product and include questions regarding the product or service as well.
Along with each question, a scale ranging from 1 to 5 should be present that would help the customer rate their feelings and opinions about the product. It is up to the company whether they want 1 to be the highest or the lowest. Since usually, people rank in an ascending manner, it is recommended that 1 should be the lowest and 5 should be kept the highest.
To better guide the customer, explanation regarding the ranking should also be provided. Remember, the goal is to facilitate the customer while getting feedback at the same time! Don't make the survey too long that the customer gets uninterested or too short that the purpose intended to be achieved is unsuccessful.
Preview and Details of Template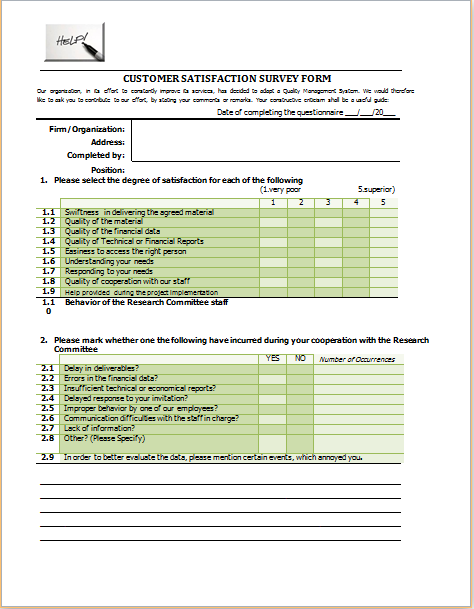 File: Word (.doc) 2007+ and iPad 
Size 115 Kb   |  Download
File: OpenOffice (.odt) Writer [Writer]
Size 63 Kb   |  Download
License: ( General Use)
(distribution) by Kate Elizabeth(CEO)