New Patient Information Sheet
Patient Information & Printable Sheet Templates
As the population is increasing with every minute the necessity for medical facilities for the patients is growing. The world is facing new diseases and viruses now and most of us get infected by them and we tend to rush towards the hospitals and medical practitioners. Here with the arrival of the sufferer, a sheet is filled which we generally known as New Patient Admission Sheet.
This sheet is drawn on the first visit to any medical facility, which in turns helps the staff to locate the patient and helps to offer future appointments. The date collected by this form or sheet is entered into the mainframe of the organization and a card is issued having a tracking id number. All the staff/clerk has to do is enter that number into the computer and history of the patient will be on the screen.
This sheet as explained before being the tool for collecting data on the first visit of any patient., The sheet holds the headings, name and logo of the organization or hospital on the top, following this the contact number and address of the institution, Patient's name, date of birth, blood group, age, sex, marital status, contact number landline and cell phone, home address, alternate number and address, emergency contacts, family physician name, known diseases and allergies, date and time of arrival, patient signature.
The data are collected on the piece of paper and the staff will convert this form into a digital form for faster processing in the future and avoid the time lags.
Preview and Details of Template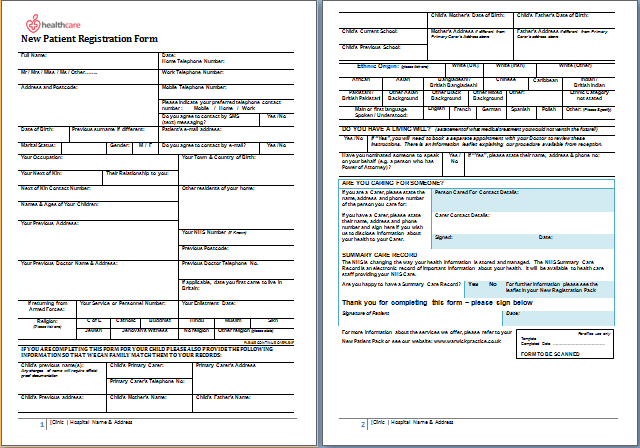 File: Word (.doc) 2007+ and iPad 
Size 18 Kb   | Download
File: OpenOffice (.odt) Writer [Writer]
Size 15 Kb   | Download
License: ENERGY  (General Use)
(Presented) by Kate Elizabeth(CEO)