New Customer Thank You Letter
THANK YOU LETTER TO NEW CUSTOMER
For keep running business customers are always needed. You should make your customers happy with the products or services provided by the company so that they can come back again. So, writing a thank you letter to customers especially to the new ones will help you to express gratitude. It will build a strong relationship between the business and the customers.
Even if you are in the service supplying industry like massage, haircut or rental service then a thank you letter to a new customer will convey a message of appreciation. It will also be a good add-on to the business. You can also attach upcoming sales or event notice or coupons on a thank you letter. This is a great way to up-sell your new or old customers.
A unique thank you letter should always be sent to the customers. The letter can be started with a template. Handwritten thank you letter will give a good impression on the customers.
The name of the customer should be written correctly on the letter. This is most important because customers get happy after seeing their name spelled correctly. After this, identify the reason behind the "thank you letter". You can start with 'thank you for choosing our services' or 'thank you for purchasing our products.' This will connect the customer with your company.  Follow up lines should also be included in the letter as these will remind the customers about your services.
PREVIEW AND DETAILS OF TEMPLATE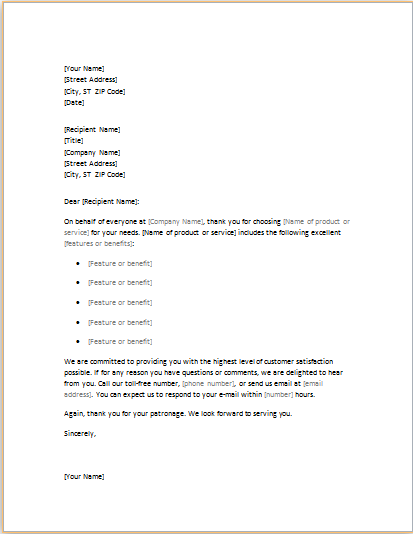 File: Word (.doc) 2007+ and iPad 
Size 27 Kb   | Download
File: OpenOffice (.odt) Writer [Writer]
Size 17 Kb   |  Download
License: ENERGY  (General Use)
(Distribution) by Kate Elizabeth(CEO)