My Home Maintenance Checklist
Home Maintenance
It is essential for us to keep our homes fully maintained through regular clean-ups in order to enhance our routine activities around the house. A regular home maintenance helps you in managing small problems that need attention which could otherwise become a serious issue if they remain unattended for a long time. A home maintenance checklist is exactly the tool you need at this point.
Home maintenance checklists are a great way to determine which tasks require special care and when was the last time we had proper clean-ups, fixtures, and repairs around the house. There are many things in the house that should be included in a maintenance checklist. Some of these are listed below:
If you have a furnace, then make sure you repair the filter after every 3 months to prevent problems at unusual times.
Make a detailed inspection over ducts, heating equipment, and appliances to determine their problems.
Pipe maintenance is another crucial factor in listing down in your checklist. It is important for you to inspect the pipelines around the house after every six months to prevent major issues in the future.
Clean up the gutters at the right time to prevent leakages and spill over. Gutter maintenance is another important point to add to your checklist.
Check the roof for any form of leakages. This becomes more important after a heavy rainfall. If the roof requires any form of repair, then do it at the right time to prevent further damage.
 Preview and Details of Template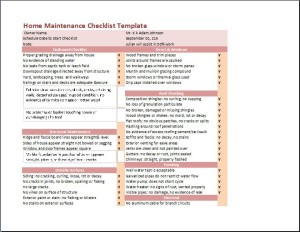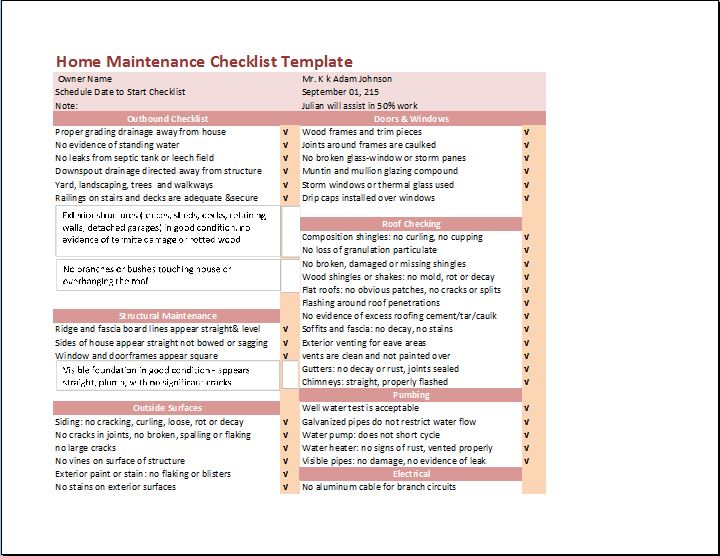 File:Excel (.xls) 2007+ and iPad
Size 36 Kb   |    Download
File: OpenOffice (.ods) Spreadsheet [Calc]
Size 25 Kb   |    Download
License: ENERGY   (Personal Use Only)
(Not for resale and distribution) by Kate Elizabeth(CEO)