MS Word Babysitter Gift Certificate Template
Babysitter Gift Certificate
The exchange of gifts and presents is a common practice on various special occasions worldwide. Whether it is a religious occasion, national celebration or any other country specific event, it is celebrated with great enthusiasm by the people. They like to present their loved ones with gifts of various kinds. The first step is that they look out for the likes and dislikes of their loved ones. Then they browse the market for something that is affordable on the pocket as well as suitable for the selected person. This is a very cumbersome and difficult process. For this purpose, the marketers have come up with a new idea.
About Template
The gift certificates that are available for sale at different venues. There are different types of gift certificates present in the market. These may include spa gift certificates, salon gift certificate, and garment shopping gift certificate, shoe gift certificates, travel gift certificates and much more. One such very unique and out of the box gift certificate is the babysitter gift certificate. Although you might have heard of different types of gift vouchers that are very common these days but this a different gift altogether. This babysitter gift certificate template is restricted to people who have children that are younger and need to be taken care of in the absence of the parents. You can get this gift certificate from:
Either visiting the center or agency yourself and buy the voucher
Or order the gift certificate online.
Preview and Details of Template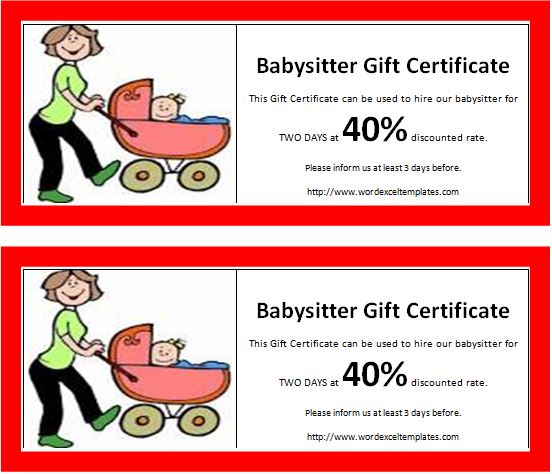 File:Word (.doc) 2007+ and iPad
Size 213 Kb   | Download
File: OpenOffice (.odt) Writer [Writer]
Size 48 Kb   |  Download
License: ENERGY   (Personal Use Only)
(Not for resale and distribution) by Kate Elizabeth(CEO)