MS Excel Travel Service Invoice Template
Travel Service Invoice
Service invoices are commercial documents which contain data related to the purchase of goods and services of the company. The data is in the form of information such as quantity of goods, their descriptions; discounts availed in their purchase, price info, and other similar details.
Quite similarly, a travel service invoice allows customers to know exactly when they are required to pay for arrangements which a travel service agency has made for them. The travel service invoice mainly consists of information related to invoice numbers, destination details, different types of travel services, traveler details, due payment details, and other similar data of the service provider company.
About Template
A travel service invoice template designed in Excel is a great document for companies through which they can easily construct an invoice format in a shortest possible time. It is a simple to use a fully customizable template which allows users to assess and organize costs which are incurred by the travelers during their visit to different parts of the world.
Another important feature of this unique template is its ability to provide useful spacing for entering crucial information regarding the location, number of travelers and dates of various trips along with many other forms of important details for companies.
Traveling Companies can now extensively record and analyze the services they are providing their customers along with calculating costs incurred to effectively plan their future expeditions. This is a unique feature of the travel service invoice template. And above everything else, this impressive tool is completely simple and can be easily downloaded from this website.
Preview and Details of Template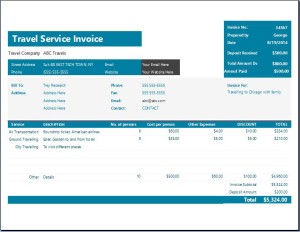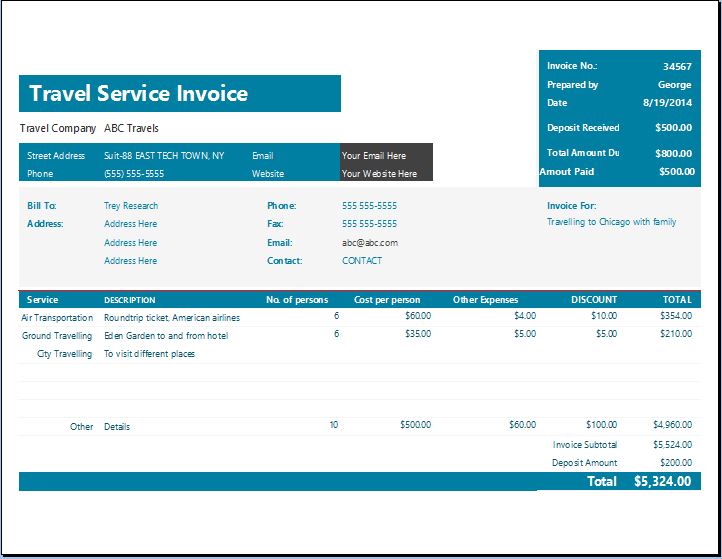 File:Excel (.xls) 2007+ and iPad
Size 43 Kb   |    Download
File: OpenOffice (.ods) Spreadsheet [Calc]
Size 22 Kb   |    Download
License: ENERGY   (Personal Use Only)
(Not for resale and distribution) by Kate Elizabeth(CEO)