MS Excel Product Sales Invoice
Product Sales Invoice
Product sales invoice is a document that is created and prepared by professional by billing, invoicing and payment purposes. A basic template can be downloaded simply from different websites and then can be edited as per required information or it can be got prepared by professionals having knowledge and expertise in invoice making. But as compared to free downloading, getting it prepared from a professional requires a cost. The best suitable thing is to get it download for free and then customize it according to your purposes.
Product sales invoice is used in a business where the sale of products is involved and this invoice template is used at the time of billing when products are sold and it's time to get paid by the customer to whom products are sold.
About Template
There are a number of details to be included in a product sales invoice. These details and information include the name of the customer and complete address. Then a proper invoice number that should look professional must be entered in the invoice so that the customer should know that you know the basics and you are experienced in business. The date of selling products is mentioned on the invoice and this date should be the actual date when you sold products, even if you are sending the sales invoice a lot later than the sale occurred.
You can also add the date of delivery and docket number in the column of description. The number of customer purchase order if any should also be entered. In the details section of this produce sales invoice, details about quantity, description of products, unit price, discounts if offered, cost and total amount should be mentioned.
Preview and Details of Template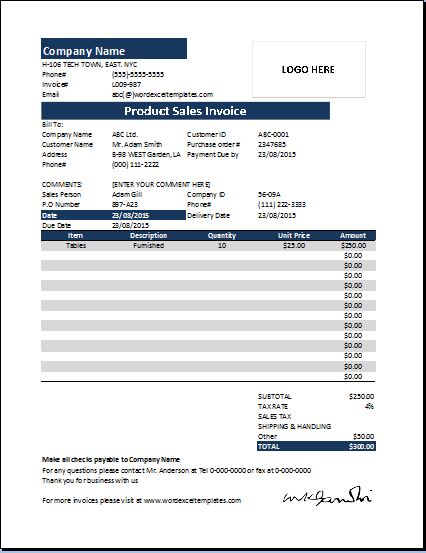 File:Excel (.xls) 2007+ and iPad
Size 45 Kb   |    Download
File: OpenOffice (.ods) Spreadsheet [Calc]
Size 35 Kb   |     Download
License: ENERGY   (Personal Use Only)
(Not for resale and distribution) by Kate Elizabeth(CEO)