MS Excel Pet Health Record Table Template
Pet Health Record Table
Most of the times, we hear questions from vets regarding allergies in pets and other similar serious conditions. Questions concerning treatments and health care for pets sometimes create difficulties for us as there are some basic questions regarding our pet health that we usually fail to answer just because we don't know the answers. It is extremely important to maintain a reliable account of your beloved pet health conditions in order to ensure their healthy lifestyle.
A pet health record table brings you an ultimate solution to all your pet health related problems. It helps you in keeping an accurate account of vet visits, medications for pets, and an entire medical plan to ensure a safe future for your pets. A pet health record table is a completely customizable and simple to use a template which works on the adaptable excel software.
This unique tool can actually reduce the need to visit a vet for your pet health. All it requires is a regular account of records and procedures related to different health activities for your pets. You can also share and discuss the information from the template, with your veterinarians to help speed up the treatment procedures for your beloved pets.
This is indeed a great feature which can shed a lot of burden from your shoulder through assembling and analyzing your pet data that requires special attention. The pet health record table helps you compiling substantial information regarding your pets which can come extremely handy during your next visit to a veterinarian.
Preview and Details of Template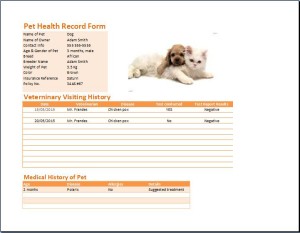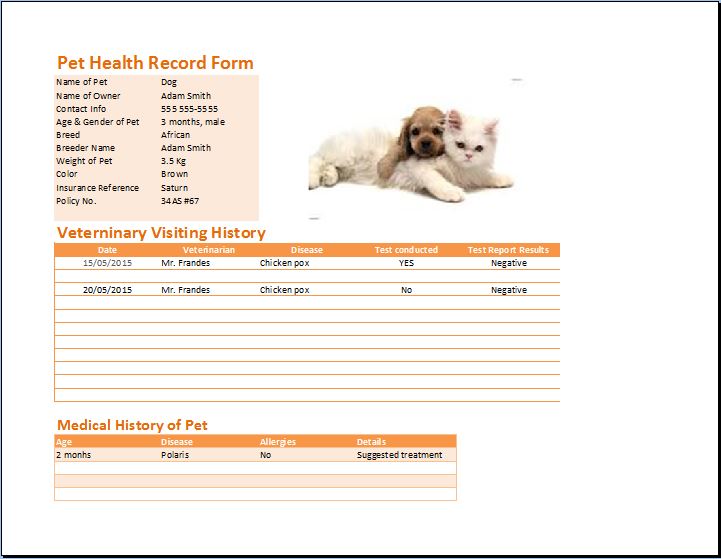 File:Excel (.xls) 2007+ and iPad
Size 25 Kb   |    Download
File: OpenOffice (.ods) Spreadsheet [Calc]
Size 26 Kb   |    Download
See Also: Pet health log template
License: ENERGY   (Personal Use Only)