MS Excel Finance Charge Invoice
Finance Charges Invoice
A finance charge invoice is a template that is used to assess any finance charge related to any unpaid invoice. To further illustrate in details, this finance charge invoice template is used to bill for the interest, while interest is charged on account balances of unpaid customers. A big advantage of this invoice is that in this template, totals are automatically calculated. There are a number of websites available which are offering finance charge invoice for free download and also there are a number of computer software that help in preparing different invoices.
About Template
If we use computer software to prepare invoices, when finance charges will be used, the software will automatically assess the finance charges and the required invoice is prepared by this software. Although the name of the invoice prepared by this software is typically finance charge invoice but the name of the template and default title can be edited by making changes to this template.
Finance charge is normally a late fee that is assessed on monthly basis. Late fees or finance charge are certainly considered to be a very good method to discourage the behavior, but these charges are not said to be appropriate for every situation. The late fee or finance charge is an option that should always be mentioned in the deal or agreement with your client and the client must know about it. Whenever you apply finance charge, your client should have full information about it that's why this finance charges have been applied and that is due to making payments late than the given time.
---
Preview and Details of Template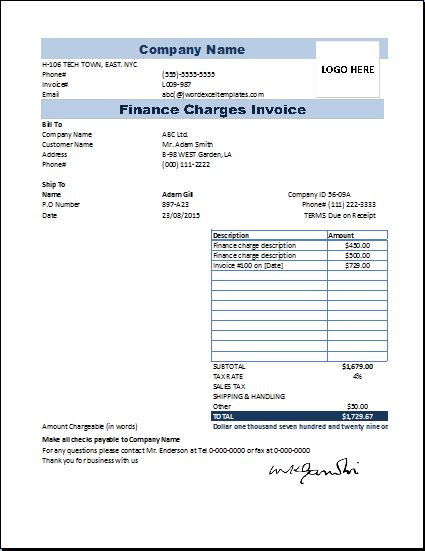 File:Excel (.xls) 2007+ and iPad
Size 48 Kb   |    Download
File: OpenOffice (.ods) Spreadsheet [Calc]
Size 32 Kb   |    Download
License: ENERGY   (Personal Use Only)
(Not for resale and distribution) by Kate Elizabeth(CEO)