MS Excel Billing Statement Invoice
Billing Statement
A billing statement invoice template is an invoice that is used for customer account management, invoice tracking, and general billing issues. Although this statement is not as comprehensive as the feature like a small business billing software it is all you need for your billing and invoicing requirements.
This template has space for the column to record invoice number, a column to record received payments from different customers, and also has a column for the generic amount that is used to record all the other credits, charges, fees, debts etc.
About Template
This billing statement invoice also contains an invoice table having different colored lines, company logo, a section for past dues and a remittance section too. Furthermore, this document has space for detailed information like descriptions, different fees, and any other relevant details.
The template is available in different formats including XLS spreadsheet, Ods or PDF and is mostly prepared in portrait orientation.
Billing statement invoice given here is a very useful tool in situations where you are involved in receiving regular payments from the same customer, for example, a tenant living in your rental properties.
This statement invoice is similar to invoice template, but it is not like an invoice because this statement can also be utilized as a ledger of account receivable for a certain customer, as this statement template shows the current balance pertaining to individual transactions.
This invoice if up to dated can be sent to a specific customer to inform and notify about the balance due to him.
Preview and Details of Templates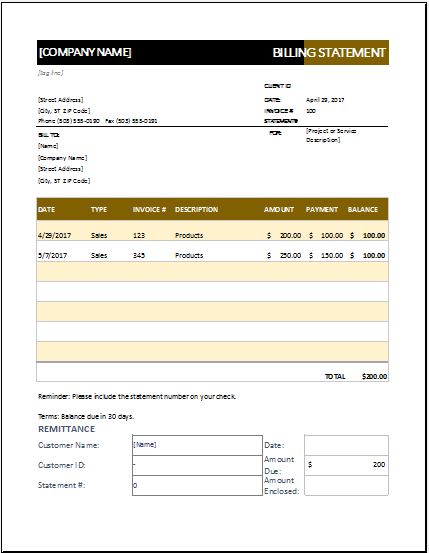 Billing Statement Template 2017
File:Excel (.xls) 2007+ and iPad
Size 33 Kb | Download
License: ENERGY   (Personal Use Only)
(Not for resale and distribution) by Kate Elizabeth(CEO)
---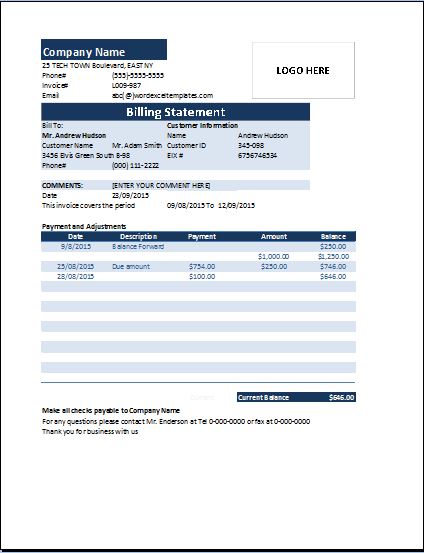 File:Excel (.xls) 2007+ and iPad
Size 32 Kb   |    Download
File: OpenOffice (.ods) Spreadsheet [Calc]
Size 23 Kb   |    Download
License: ENERGY   (Personal Use Only)
(Not for resale and distribution) by Kate Elizabeth(CEO)