Movie Award Party Invitation Sample
Movie Award Parties & Invitation Templates
A movie award party is an event which is thrown to honor and give out prizes or awards for movies. Often they are thrown to appreciate the hard work put in by all of the people when making a movie. It is a night where all the efforts and the dedication are appreciated.
Many educational institutions which teach such courses often have a movie awards party at the end of the year. Apart from educational institutions, various societies and various organizations also conduct such events after their participants have made a movie.
To make the Movie Awards party more elegant and more official, invitations are sent out to guests. It adds a nice touch to the whole event. The invitation should be designed in a way that it reflects that the event is for a movie award. It could have a background of a camera or a reel to give a more official look. The font and the color of the font could be gold or silver to add a bit of glamor.
Often dark red is also chosen. Just make sure that you have a dark background when using these colors. The time and the venue should be mentioned below. You can also add the map of the venue to facilitate the guests even more. You can also add a copy of all the nominations along with the invitation so your guests have an idea of the whole event.
Preview & Details of Template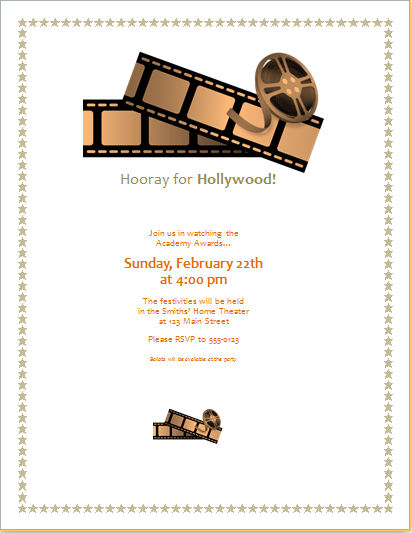 Movie Award Party Invitation Template
File: Word (.doc) 2007+ and iPad 
Size 294 Kb   |  Download
License: ENERGY  (General Use)
(distribution) by Kate Elizabeth(CEO)