Monthly Meal Planner Template
Every month the needs of the family have to be catered with proper household management. Family meal planning is one important task that is associated with it. Family meals are expected to be the best time of the day because the entire family is together on the table after one tiring day. The best way to go on with this is the use of family meal planner template. Planning of grocery list, weekly or monthly meal plans is now just a piece of cake. This template will help you and let you enjoy every phase of the meal, before and after. Family monthly meal planner is a great way to organize and prepare meals.
For anyone who tends to be organized most of the time, this template would play a vital role. This will help you in the following ways:
Your kitchen will be in great control of the use of this template.
Your grocery trips can be planned in a better way.
Your cooking will be planned and organized.
The use of monthly planner will give you the exact amount of ingredients that your kitchen is out of.
The template is designed in a way that it is quite user-friendly and provide you all the benefits associated with it. You can give your family good cooking every day and enjoy the time in between. It will be very smart of you if this template is used in your routine and a good planning can be done.
Family Monthly Meal Planner Template
File Type: Microsoft Excel: Number of Sheets = 4 Options: Free download, a link is given at the bottom of this page
Sheet#1 Meal Plan
This is Sheet#1 of the template entitled Meal Plan that contains a plan of meals for the whole month. A number of rows and columns are given to manipulate data accordingly. The first column contains complete month's date corresponding to four other columns have served, main dish and side dish details.
Sheet#2 Ingredients
This is Sheet#2 of the template entitled Ingredients that contains ingredients detail. All details are managed using different rows and columns. The first column on the extreme left contains dish names corresponding to other columns with Amount, Unit and Ingredient details. This is really facilitating for you as you need not remember anything by yourself. Keep updating the information and the template is assisting you easily.
Sheet#3 Recipes
This is Sheet#3 of the template entitled Recipes. It contains recipes detail for a complete month. You can see some recipes online or want to keep it safe with you this sheet is nothing more than a blessing. A column is given to keep a record of links that you liked on different websites along with Dish Name and to how many people it can be served.
Sheet#4 Shopping
This is Sheet#4 of the template. It entitled Shopping. For every family, it is must to visit the market for buying grocery and eating things. It would be much fine if you already have prepared a list before going to market so that you don't miss anything important. Use this sheet to prepare a list of INGREDIENTS along with UNIT and QUANTITY. You can put a start date and extra NOTES if any to make sure you have everything in hand before you leave home to the market.
Preview and Details of Template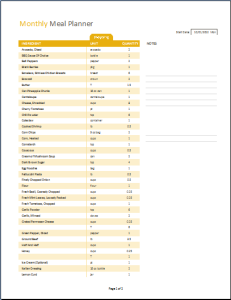 File: Excel (.xls) 2007+ and iPad 
Size 222 Kb   |   Download
File: OpenOffice (.ods) Spreadsheet [Calc]
Size 37 Kb   |     Download
License: ENERGY   (Free Use)
(distribution) by Kate Elizabeth(CEO)