Prescribed Medication & Record Sheets
Medication record sheet or medication administration record (MAR) is a legal record kept by the medical facility of the drugs prescribed to the patient by the medical officer or doctor. This is a permanent part of the patient's medical history. The prescriber sign-off the document at the time of injecting or giving the drug to the patient. Today we see a different form of this sheet we call it electronic medication charts; this development is because of the increase in the use of technology in every field of life. It is easy to maintain and access at the time of need, no alternation from the outside source can be done as it is kept saved on the mainframe or the server of the facility. This document serves a legal purpose, because every country discourages the drug abuse, and also for the inquiry in the case of any unfavorable results.
The format of the sheet can vary from organization to organization, state to state, and country to country. The headings which are common among all of the formats are; Patient's name, age, sex, weight, treatment details, allergies, special diets. These are for the administrative users. Then comes the headings under the name of prescription details, which are;
Drug name, power and amount of the consumption, route, frequency in a day, diagnosis, and signature of the doctor when prescribing the specific drug.
A chart is also attached to the document which shows the changes in the condition of the patient after consuming the drug, the cart is monitored by the nurses and in critical stages, the doctor is summoned.
Preview and Details of Template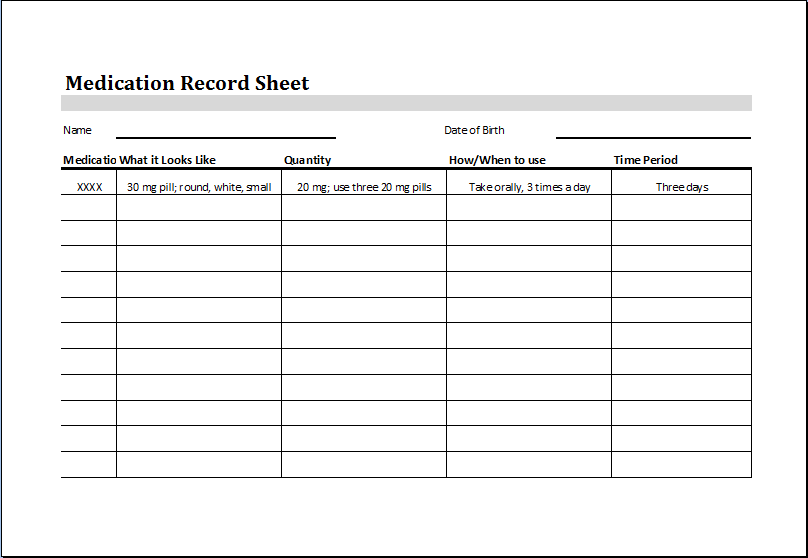 File: Excel (.xls) 2007+ and iPad 
Size 24 Kb   |  Download
File: OpenOffice (.odt) Calc [Calc]
Size – Kb  |   uploading soon
License: ENERGY  (Personal Use Only)
(Not for resale & distribution) by Kate Elizabeth(CEO)