MEDICAL SERVICES
Receipts are usually an acknowledgment for a transfer of goods or services. A medical receipt is issued when any set of services or single service regarding the medical field are provided.
A medical receipt displays the detail information regarding the services provided, the charges pertaining to these services, by whom the services were given, to whom these services were rendered, medical insurance information if was required.
A medical receipt is not just important for the service provider but also for the patient or customer. For the medical care provider, the significance of the receipt is because they have to keep a record of which tests or diagnostic facilities are used for further research. Also, the budget and evaluation of financials are also dependent on the accumulation of all the medical receipts issued. For the patients, these receipts are recorded for their medical diagnostic file.  Also if medical bill reimbursement is to be claimed later,  then this receipt is vital.
PATIENT CARE SERVICES, RECEIPTS & TEMPLATES
The templates available on the internet are of different formats. You can select the one whose layout and detail is relevant to the medical care facilities that you provide. Usually, all you have to do is insert your logo in the selected template along with the name of your medical center and its address.  The rest of the fields are not fixed as they pertain to the patient or your client. After setting your logo and address you are good to go.  You can use this template as both email receipt and printed receipt. You can get them printed in bulk and keep to be filled with hand or print a copy each time.
PREVIEW & DETAILS OF TEMPLATE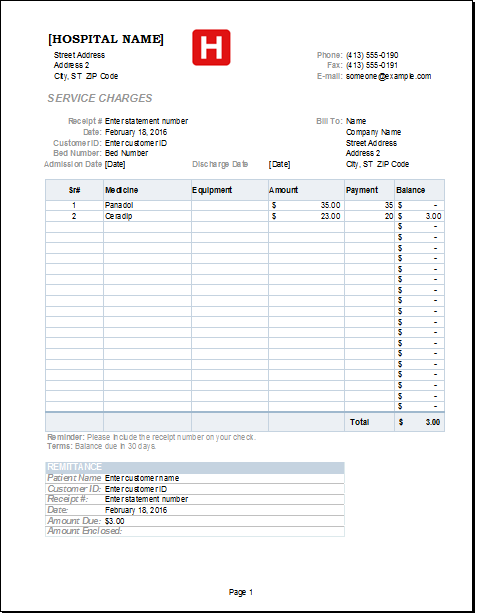 File: Excel (.xls) 2007+ and iPad 
Size 36 Kb   | Download
File: OpenOffice (.ods) Calc [Cal]
Size 42 Kb   | Download
License: ENERGY  (personal use only)
(Not for Resale & Distribution) by Kate Elizabeth(CEO)