What if someone borrows money from you and never pays back?  Or what if you borrow some money and the lender increases the amount later? It gets problematic. Doesn't it? This is why it is suggested to never lend or borrow money without written agreements. Loan agreement letter is a legal document that helps you record the loan agreements and its details in order to save you from possible headaches if your borrower or lender is a dishonest or otherwise forgetful person. These headaches can follow you even if you write a letter but write it inappropriately. To save your Disprin tablets, we have some tips for you;
Before writing a loan agreement letter, make sure what are the terms and conditions on which the agreement is being made.
Write the details of lender and borrower with utmost care as this can otherwise cause problems.
Don't make even a minute mistake while writing about the amount of loan.
Mention the repayment schedule.
Add in the agreement letter, the consequences borrower will have to face if he doesn't pay the money back by the due date.
Signature proof of both the lender and borrower has to be there on a loan agreement letter.
It is always recommended to attest your letter from an attorney or notary public especially if you're dealing with a huge amount.
Since we know that writing a loan agreement letter is a tricky job, we've tried to make it easy for you with our loan agreement sample letter because we desperately want to save you from headaches and Disprin.
Preview and Details of Template
File: Word (.doc) 2007+ and iPad 
Size 32 Kb   | Download
File: OpenOffice (.odt) Writer [Writer]
Size 17 Kb   | Download
License: ENERGY  (General Use)
(Distribution) by Kate Elizabeth(CEO)
---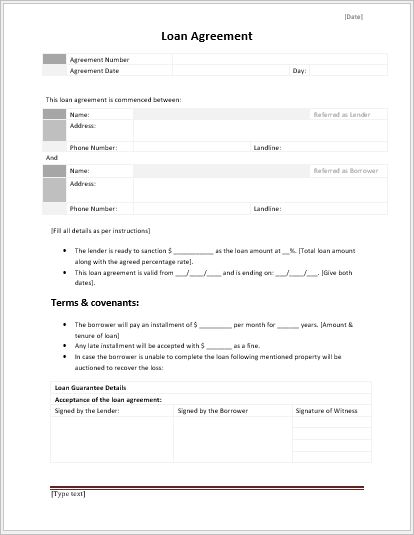 MS Word Loan Agreement Template
File: Word (.doc) 2007+ and iPad 
Size 32 Kb   | Download
File: OpenOffice (.odt) Writer [Writer]
Size 17 Kb   | Download