Letter with Service Price Quote for Existing Customer
SERVICES LETTERS
A letter with service price quote is any letter in which the reference of the price of product or service is written. The letter with service price quote for existing customer is a good medium by which any misunderstandings or doubts can be removed which may exist between different business relations and associates. Customer service letter should always be short and to the point. It should not have any unclear or misconception points.
In the letter with service price quote, the company can discuss the prices of the existing products with the customers. The letter can range from a client or customer accepting or requesting a quote to the service provider or supplier sending the amount of quote.
EXAMPLE: you can write a letter of quotation with prices to any ventilation company elaborating your situation and requesting a quote for the completion of the job.
A quotation letter is the most commonly used letter in a business organization. The letter can be written for explaining the sale offer. The letter is sent in response to any inquiry from a customer. So, it is actually a reply letter to any inquiry. The letter includes the price of particular goods, terms of payments and the conditions of delivery of products. While writing such type of letters, the company's seller should clearly state all the information regarding the products and correct prices of products should be written on the letter. The letter should be written in a good tone to create goodwill and establish a business relationship.
PREVIEW & DETAILS OF TEMPLATE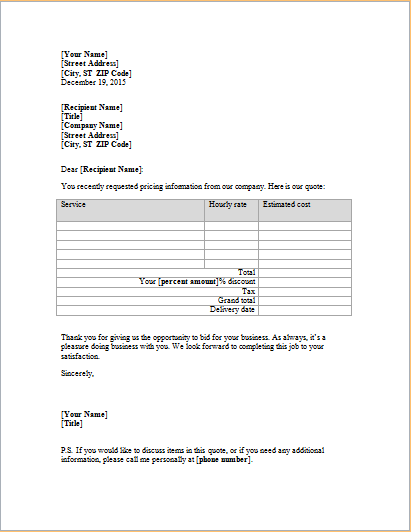 File: Word (.doc) 2007+ and iPad 
Size 35 Kb   | Download
File: OpenOffice (.odt) Writer [Writer]
Size 18 Kb   |  Download
License: ENERGY  (General Use)
(Distribution) by Kate Elizabeth(CEO)