LETTER TO LANDLORD RESPONDING ALLEGED LEASE VIOLATIONS
ALLEGED LEASE VIOLATIONS RESPONDING LETTER
A letter to a landlord is written responding alleged lease violations. It is an awful position when the landlord violates the lease agreement. The letter should be written in a polite way because if the landlord found the letter to be harsh he may kick the tenant out from his apartment. Especially when you are living by paying a low rent as compared to most of the apartments.
If your landlord is violating the agreement and you want to write a letter of lease violation to your landlord then it is important for you to have all the documents of the violations. You must give each and every detail regarding the violation. You first need to explain the history of the problem in the letter and attempts made by you to resolve the issue. Next, you need to mention that you need the violation to be corrected. Sign and date the letter and then send to the post office, requesting the signature of your landlord. It will be good to keep all these records with you if you want to take any legal action in future.
There are many minor and major ways in which the landlord can violate the lease agreement. Such as
Not repairing the minor problems
Does not give back the security deposit
Does not clear driveways and walkways
Does not pay interest to the tenant on security deposit
In all of these situations, letter to the landlord can be written.
PREVIEW & DETAILS OF TEMPLATE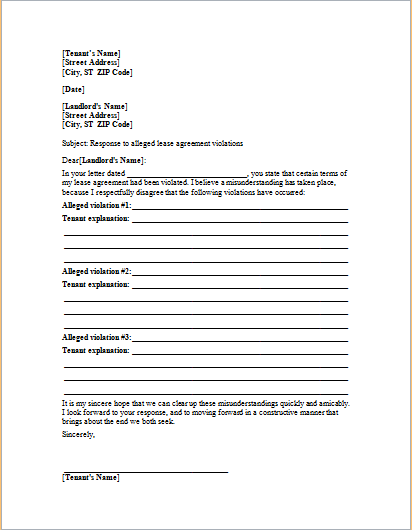 File: Word (.doc) 2007+ and iPad 
Size 28 Kb   | Download
File: OpenOffice (.odt) Writer [Writer]
Size 20 Kb   |  Download
License: ENERGY  (General Use)
(Distribution) by Kate Elizabeth(CEO)