Letter to Candidate Who Apply Too Late
APPLYING TOO LATE & LETTERS
The letter in response to applying late is written to the candidates who are unsuccessful in applying the application form on time. The letter is written by any school, college, university or any company for the late submission of the forms or any other requirements.
The preferred name of the applicant or candidate can be written on the letter to which the job has been offered. This will notify the candidate who has applied late that the position has been given to someone else.
Before notifying the late applicant you should send a letter to the preferred candidate. Once you have selected the preferred candidate you can send the letter to the late candidate or unsuccessful applicants. You need to write the applicant's name, applicant's address and postcode in the beginning of the letter. In the end of the letter, you need to write manager's name, position title, and business or company name.
OFFICIAL LETTERS
It may be possible that some unsuccessful candidates may contact you to find out the reason that why they are unsuccessful for the position. So, it is better to mention the reason in the letter. You can also keep the notes which you have taken from the selection process. This will help you to answer all the questions which you may get from unsuccessful candidates.
Keep in mind the reason for not selecting the candidate should be specific and based only on the late application. It should not be based on their age, family or race as it is unlawful.
PREVIEW & DETAILS OF TEMPLATE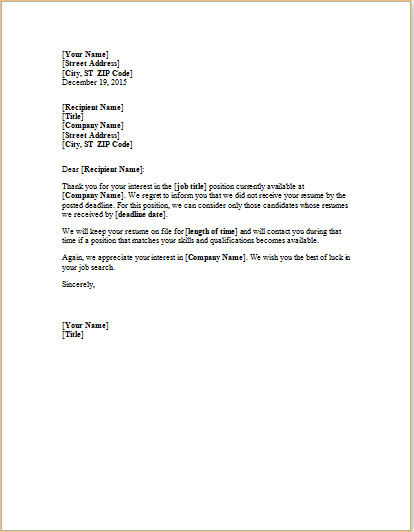 File: Word (.doc) 2007+ and iPad 
Size 24 Kb   | Download
File: OpenOffice (.odt) Writer [Writer]
Size 15 Kb   |  Download
License: ENERGY  (General Use)
(Distribution) by Kate Elizabeth(CEO)