LETTER REQUESTING CANCELLATION OF SERVICES
SERVICES CANCELLATION REQUESTING LETTER
The goal of letter requesting cancellation of services is to make a brief and clear request. There should be no misinterpretation in the letter. The tone of cancellation letter should not only be neutral but professional too.  Don't go to explain the poor services of the company in the letter. In fact, you should explain the reason behind the cancellation of service is useful.
Keep the cancellation letter straightforward and simple. Just state that you want to cancel the service clearly and write a simple reason regarding this. If you have owed some money on the account then you can enclose the payment or request a final bill.
The letter requesting cancellation can be written from anything which starts the process of canceling membership, subscriptions, services, etc. Most of the companies just require a phone call only for cancellation of products. But some of the companies require an elaborate cancellation letter in writing. By writing a cancellation letter you are outlining your wish to cancel the ordered product or services. Some requirements are also attached with the cancellation letter. You can also retain a copy of this letter in your record.
All the required data should be mentioned in the cancellation letter such as your account or any reference number. You should avoid using inflammatory language in the letter. You can make your letter professional by simply writing "Dear sir or madam". You should allow a 30 day cancellation period as this is the standard period for any company for canceling the services.
PREVIEW & DETAILS OF TEMPLATE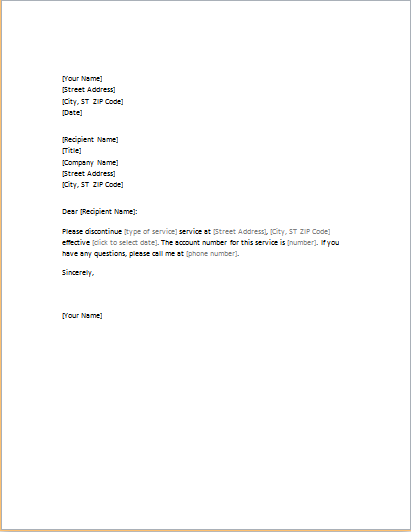 File: Word (.doc) 2007+ and iPad 
Size 24 Kb   | Download
File: OpenOffice (.odt) Writer [Writer]
Size 14 Kb   |  Download
License: ENERGY  (General Use)
(Distribution) by Kate Elizabeth(CEO)