Lawn Care Services & Receipts
A lawn care service is a company that maintains your lawn for you, now you don't have to take time out of your busy schedule to mow your lawn or take out the weeds or fix the hose etc. All you have to do is to hire a lawn care service provider to help you deal with these chores. You can hire them on weekly, fortnightly or monthly basis. But if you have a huge lawn you can hire them on daily basis too.
At the end of each month, you would be presented with a receipt with details about the services provided and the time given to your lawn with the charges you have to pay. The mode of payment is also written on the receipt.
Additional services, like disinfecting spray, planting of new plants, watering of the plantation, designing of hedges, picking up of fallen leaves etc. are also mentioned in the lawn care receipt with their respective charges.
The receipt is formally known as the lawn care receipt. Some lawn care companies also provide the facility of landscaping and designing plantation and rockeries. If you have a water body or swimming pool, you can get that maintained by the lawn care service provider as well.
The receipt is not only useful for you to know how much you spend each month to maintain your lawn but also equally important for the lawn care company so they can know and manage their clientele. There are a lot of different lawn receipts formats available but choosing one depends upon the services the company provides.
Preview and Details of Template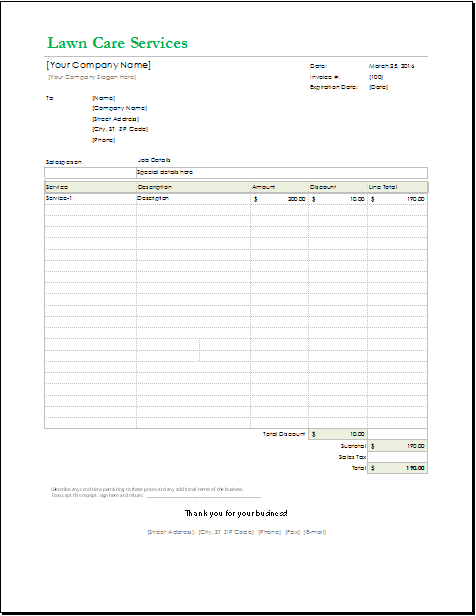 File: Excel (.xls) 2007+ and iPad 
Size 33 Kb   | Download
File: OpenOffice (.ods) Calc [Cal]
Size 19 Kb   |  Download
License: ENERGY  (Personal Use)
(Distribution) by Kate Elizabeth(CEO)