Kids Valentine's Day Cards
VALENTINE'S DAY & KIDS
Probably the valentine day is the most cherished event in modern day society. Though the event is considered as an event of love for adults, it has its own importance for kids of modern day generation. Similarly, people are often aware of the subject of cards given to adults at Valentine day but they stand unaware when it comes to the selection of cards for kids on the auspicious occasion of Valentine Day.
Considering the sensitivity of age, the choice of words in valentine day gifts must be adequate and appropriate at the same time. As we know that children are attracted by the color and style of the card, so most appropriately, you must include a charm on the outer layer of your valentine day card.
Secondly, we know that it is the norm of today that kids are often inspired by the idea of cartoons and wrestlers or sportsmen, so in the selection of card, we must spend few minutes contemplating the right kind of card for the right kid. It is most likely that children are likely to be inspired by charming looks of the card.
The attractiveness of the card would also be the parameter for kids to judge your love and reverence for them. Coming to the content of card, you must include simple premise of love, exhibiting your benevolence for them in the simplest of manners. Presumably, the kids will be thrilled by such experience of love and care from your side.
PREVIEW AND DETAILS OF TEMPLATE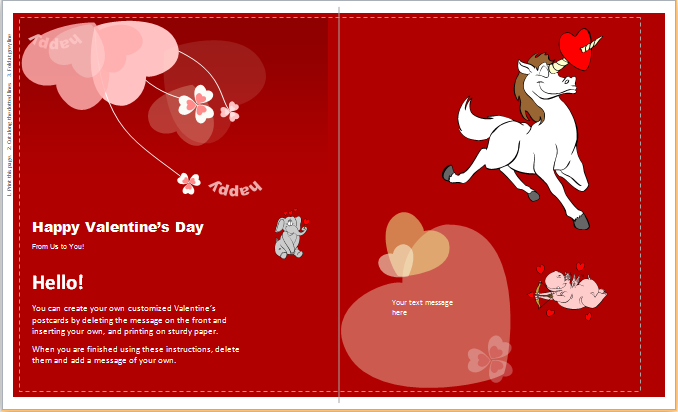 File: Word (.doc) 2007+ and iPad 
Size 90 Kb   | Download
File: OpenOffice (.odt) Writer [Writer]
Size 57 Kb   |  Download
License: ENERGY  (General Use)
(Distribution) by Kate Elizabeth(CEO)