Kids Emergency Contact Sheet
Emergency & Kids Contact Details
These days, no one knows when an emergency occurs as it is something that no one has any idea about or any prediction about. Especially with kids, in the time of emergency, it gets very tough to locate them or take care of them. This is why a kids emergency contact sheet is needed and is the best thing to prepare for the emergency before it happens. There are many benefits of an emergency contact sheet as it proves to be a great source of help.
One benefit of such a sheet is the preparation that can be done before the emergency occurs. By filling the sheet in advance, you can alert the caretaker about what to do in the time of emergency. Another benefit is that immediate contact with the family members with the parents of the kid is done and this alerts the parents immediately about the emergency and also it gives them the hope that their kid is fine and safe.
Basic components of a kid emergency contact sheet are as follows:
Emergency Numbers
Hospital name
Doctor Name
Pharmacy Name
Parents' names
Kids' names
City
Parents' numbers
Emergency contact
These are the basic components of a typical kid emergency contact sheet and it contains all the information that is necessary at the time of the emergency. Keeping in mind the benefits, such sheets shall be there all the time.
Preview and Detail of Template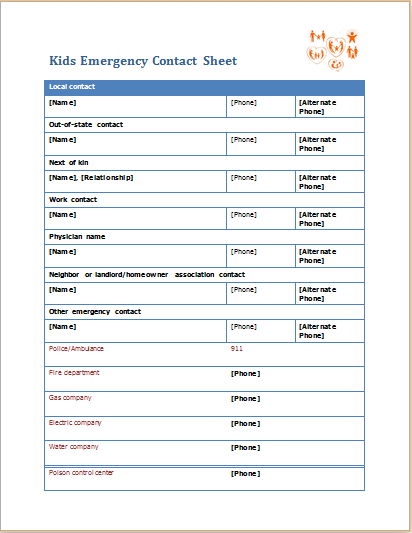 Emergency Information Sheet for Kids
File: Word (.doc) 2007+ and iPad 
Size 105 Kb   |   Download
File: OpenOffice (.odt) Writer [Writer]
Size 80 Kb     |   Download
License: ENERGY  (General Use)
(Distribution) by Kate Elizabeth(CEO)