Blood Sugar & Tracking Tools
One of the deadly diseases in today's world is sure diabetes. This do not mean that other diseases are not deadly, sure they are but diabetes is one of them and equally deadly if not controlled, worst result one may witness or experience is gangrene, and finally death. So what do we have to do? Answer is simple Control It.
There is no age to get infected or catch a disease; some kids are born with raised sugar levels in their blood. But we do have a set of precautions and tools to keep it under the limit and let the young kid enjoy and lead a healthy life.
As we brag about the innovation and change, we must admire those changes in the field of medical sciences. The tool for testing sugar level in the blood is now pocket sized box. All anyone has to do is prick the fingertip with lancet, a small drop of blood is sufficient for this procedure, drop that blood on a testing strip and carefully place it inside the tool or box, within seconds' results of the sugar level will be on the screen.
Now as the kid do not have the knowledge to operate this tool, parents should do it and keep a chart for the level and note down the results on the chart under the name of the occasion. And repeat the procedure throughout the day whenever the kids have his meal. The testing will help you to count the calories, and how much one must intake. Keep a record and at the monthly appointments discuss it with the specialist for the further betterment.
Preview and Details of Template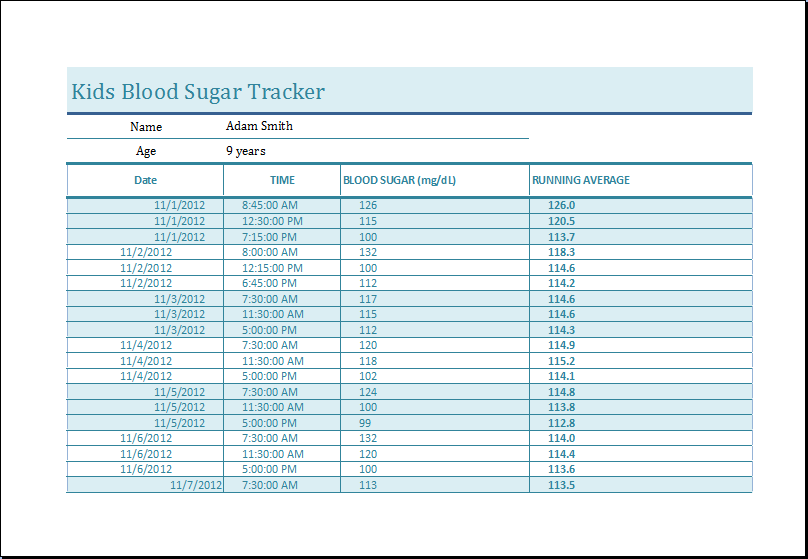 File: Excel (.xls) 2007+ and iPad 
Size 33 Kb |  Download
File: OpenOffice (.ods) Calc [Cal]
Size 26 Kb   |  Download
License: ENERGY  (Personal Use Only)
(Not for resale & distribution) by Kate Elizabeth(CEO)