REFUSAL LETTERS
You have been offered a good job with a good pay by some company and with better facilities. On the other hand, you want to refuse the job of the company offering a low pay then you can write a job refusal letter to other company. You should write the letter as soon as possible so that they can search for any other employee. The letter of refusal should be very professionally written and with a good tone. The job refusal letter will notify the company that you are not interested in their job offer.
Guideline for Writing Job Refusal Letter
Here are some important guidelines which will help you in writing a good job refusal letter.
You should say thank you to the employer for offering you a job. You should be courteously thanking the employer for his job offer and his precious time. You should thank him for interviewing you and for considering you for the job position.
Don't use any negative comment or statement against the employer and his company. Clearly, state your refusal against the job. Be polite and state your reasoning.
You should also explain your reasons that why you are refusing the job offer. Give a specific reason and be straightforward. You can simply tell the employer that you have accepted another job offer because it matches your qualification, your desired job, your career goals and your location.
Once you have explained your reason, you can send your letter courteously.
PREVIEW & DETAILS OF TEMPLATE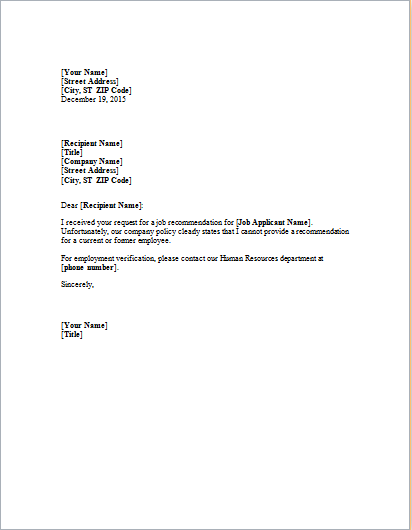 File: Word (.doc) 2007+ and iPad 
Size 26 Kb   | Download
File: OpenOffice (.odt) Writer [Writer]
Size 14 Kb   |  Download
License: ENERGY  (General Use)
(Distribution) by Kate Elizabeth(CEO)