Baby Feeding & Diaper Schedules
The moment your baby is born, he/she is hungry. Your baby needs to be fed on a regular basis to ensure that he/she has the required amount of nutrition to grow and gain weight. Often many new mothers have a hard time adjusting to feeding schedules and get confused as to what to do, when to do and how to do. This dilemma can be solved by keeping an infant feeding schedule to record how many times you fed your baby and at what time.
An infant feeding schedule should consist of two mandatory columns. The first one should mention the time of feeding the baby and the second should be specified for how much did your baby intake. If you're feeding him/her formula then mention the amount of formula and if you're breastfeeding your baby then mention the time he/she took overall.
Keeping a baby feeding schedule helps the child care provider in knowing if the baby is growing and gaining weight at the desired rate and if the baby is being properly fed or not. The infant feeding schedule also helps the pediatrician in advising the new mother of how to adjust the infant to a proper feeding schedule. Take the feeding schedule on every visit to the pediatrician in order to get a better idea of the growth of your baby. Keep it next to where you feed your infant to facilitate accessibility and convenience.
Preview and Details of Template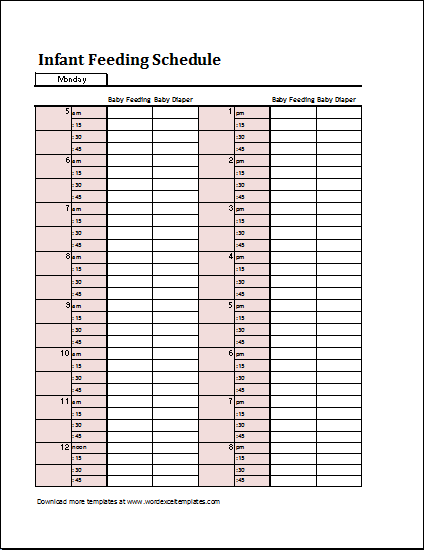 File: Excel (.xls) 2007+ and iPad 
Size 67 Kb   |   Download
File: OpenOffice (.odt) Calc [Cal]
Size 18 Kb   |   Download
License: ENERGY  (Personal Use Only)
(Not for resale & distribution) by Kate Elizabeth(CEO)