Home Repair Services & Receipts
Maintenance of a house is a never ending work, especially as the house ages you need to keep on making repairs to one thing or the other to keep the house in good shape. Sometimes you would need to get the wiring and electric works fixed, sometimes the plumbing needs your attention yet at others time the ceiling or flooring needs repairing. It is difficult for anyone to ask so many different people to fix different things, so hiring a company that would manage all the repairing works is the most feasible solution.
There are a lot of companies that provide these services under one roof. You just need to call them and they send an expert to do a survey of the problems you are facing, then they inform you what works you need to get done. After the repairing work is finished the invoice or the home repairing receipt is issued which is a proof of the services provided by the company in return for the payment received.
The information displayed on the receipt is the name and contact information of the company with their logo, the name and address of the client, the work that was done by the repairing company, the materials purchased with their suppliers information and price, the labor charges, the number of hours spent on the repair work, charges of special equipment used and the total amount of payable money. At the end of the receipt, the mode of payment is mentioned along with the signature of the authorized person accepting payment.
Preview & Details of Template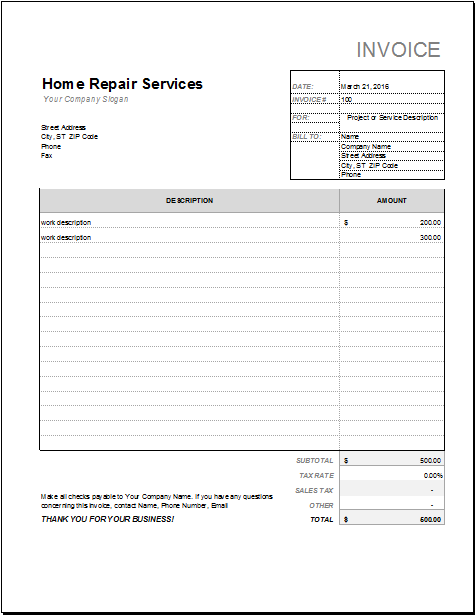 File: Excel (.xls) 2007+ and iPad 
Size 28 Kb   | Download
File: OpenOffice (.ods) Calc [Cal]
Size 16 Kb   |  Download
License: ENERGY  (Personal Use)
(Distribution) by Kate Elizabeth(CEO)