Home Renovation Model Template
Home Renovation Model
Home renovation can sometimes be a tricky phase for families which leaves them worrying about their projected expenses. A home renovation model template is a wonderful tool for them through which they can calculate their home renovation budget in an excellent way. It allows them to compare different options while renovating their homes, and organizing different aspects through a pre-designed software for achieving effective results.
The home renovation model template designed using Excel contains a complete list of projected expenses along with every single detail regarding a home renovation phase. This enables families to focus on key issues through an automated tool which keeps track of all their expenses and helps in securing their home renovation budget in an effective way.
For people who have a limited budget for home renovation, this new template by Excel can bring some highly amazing results. It helps in coordinating different activities during renovations and saves a considerable amount of money plus time.
About Template
The template helps in identifying key areas of the house which need more attention in the form of ceilings and roofs to identify damages and leakages, house paint, windows and doors to ensure maximum accessibility, home appliances, layouts, extensions, floors and tiles, electrical wiring, plumbing issues and many other important aspects for increased efficiency.
So, if you're planning to renovate your house, then the home renovation model template can surely bring you those cost effective results which you've always dreamed of. Just download the template, put in the data and achieve tremendous results during your home renovation process.
---
Preview and Details of Template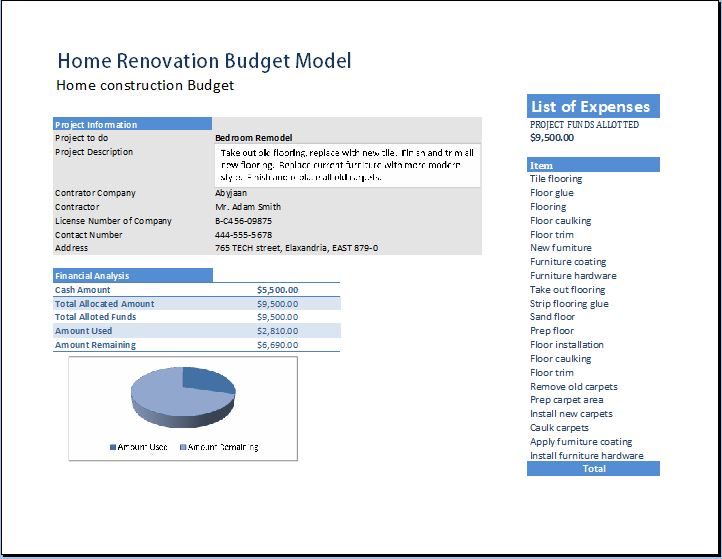 File:Excel (.xls) 2007+ and iPad
Size 32 Kb   |   Download
File: OpenOffice (.ods) Spreadsheet [Calc]
Size 30 Kb   |   Download
License: ENERGY   (Personal Use Only)
(Not for resale and distribution) by Kate Elizabeth(CEO)