Home Insurance Inspection Checklist
Home Insurance Inspection
Whenever you plan to buy a new house, make sure you know that it is safe and insurable. In order to successfully handle this issue, it is better to call a professional to inspect the house you intend to buy. Not only does it help you in determining the problems with a house, you can also consult the seller for repairing the issues which are present in the house.
A home insurance inspection checklist is a reliable tool for people who are planning to buy a house. It stores details regarding the home areas which need attention and where you should inspect during a house buying process.
About Template
The home insurance inspection template arranges the data and provides a list which you can always consult for help.
Some of the important areas which need to be mentioned in a home inspection checklist are listed below:
Doors, walkways, and staircases. All these places must have weatherstripping and thresholds.
The movement of all door should be smooth and without any resistance.
The drainage system of the house is very important. It is one of the areas where you need to inspect.
Flooring is another good area for inspection.
Look for any water damages or cracks that need fixtures.
If the house contains a fireplace then make sure it operates effectively and must not crumble.
Make sure that the pipes are in good condition.
Water leakage can cause problems so ensure that the plumbing issues are resolved.
Roof and foundation are two important areas.
Check for any cracks and leakages to ensure a sensible purchase.
Preview and Details of Template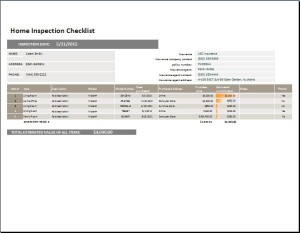 File:Excel (.xls) 2007+ and iPad
Size 18 Kb   |   Download 
File: OpenOffice (.ods) Spreadsheet [Calc]
Size 17 Kb   |    Download
License: ENERGY   (Personal Use Only)
(Not for resale and distribution) by Kate Elizabeth(CEO)