Health History Questionnaire Form
Health History Questionnaires
Health is the most important asset given to a human by nature and that is why people spend millions of bucks to ensure that their health stays put. We exist in a universe which is radically evolving and bringing forth diseases that are changing drastically as well. It is very common for a person to catch a disease for at least thrice in his/her life.
When we are ill, we consult our physician who then first looks at our medical history if it's present. If we don't have a medical history then the current checkup will be the start of one and will be known as the medical story. At the time of the checkup, the physician fills out a certain questionnaire to understand our previous ailments and any symptoms that we may have gone through.
This questionnaire form asks certain details such as the name of the patient, age, and sex of the patient, marital status, occupation, complete contact and address information, name of the family physician, is the patient is currently on any drugs, for how long the patient is suffering from the disease, when were the first symptoms noticed, does the patient have any other disease such as diabetes, high blood pressure etc., and if he is allergic to any compound or medical formula.
Note that these documents are legal in nature. One can see them in hospitals and clinics, in some cases, these figures can be downloaded from the official websites of the state government if there is some kind of campaign going around the nation such as polio drops or HIV tests.
Preview and Details of Template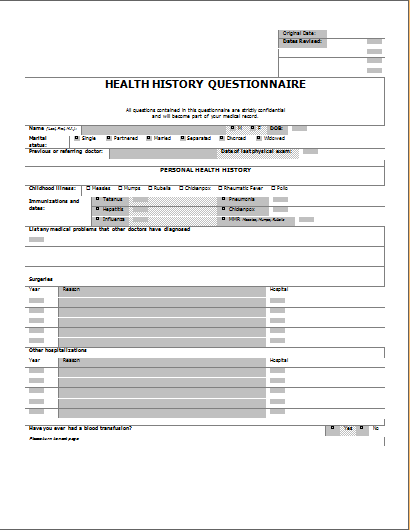 File: Word (.doc) 2007+ and iPad 
Size 235 Kb   |   Download
File: OpenOffice (.odt) Writer [Writer]
Size 27 Kb     |   Download
License: ENERGY  (General Use)
(Distribution) by Kate Elizabeth(CEO)