Happy Birthday Wishing Card
Birthday Cards
The usage of computers and internet has brought a lot of ease and convenience to our lives. Methods of doing various activities have changed altogether. Now with little efforts more can be achieved. This means that computers and automated systems have actually improved our productivity many times.
The use of computers in offices and business organizations has reduced the workload of the employees and staff members. Among the various advantages of this usage is the documentation. Now drafting printed of documents is much easier than ever before.
You can now use the computers to download various templates and create the documents for your own requirements and needs. One common example is the birthday card template.
Birthday is a very special event in the lives of people and is one occasion that is celebrated all over the world. On this special occasion, people with their loved ones with the best wishes. For this purpose, they use birthday cards.
Although ready-made birthday cards are available in the market you can also make personalized cards using the computer and the internet. There are a number of options available on the internet from which you can choose the one that suits your needs and like the most.
So when you are looking for a nice birthday card just log on to the internet and download your favorite birthday card template. You can use it to create a customized card for your loved ones and family members. One such an excellent formatted card is available here which you can use for the purpose.
Preview and Details of Template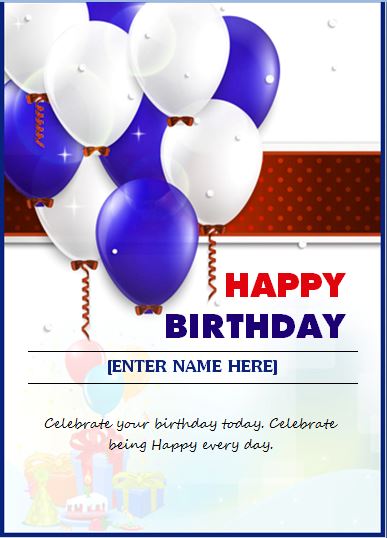 File: Word (.doc) 2007+ and iPad
Size 113 Kb   |    Download
File: OpenOffice (.odt) Writer [Writer]
Size 164  Kb   |    Download
License: ENERGY   (Personal Use Only)
(Not for resale and distribution) by Kate Elizabeth(CEO)