Handyman Services & Receipts
A handyman is a person who helps you with generally any type of work done for maintenance or repair of the house. When someone is renovating or getting his/her house constructed, they might hire a handyman themselves or the contractor would provide them with a handyman. In both the cases, a receipt would be given called a handyman receipt.
It is not just important for the client to assess their budget but also important for the construction companies or the contractors that are hired. In short, a handyman receipt is a proof of not just the amount that you charged for the services as a handyman but also the materials used and their price.
It is a formal request for payment of work done around the house whether or not the house is being renovated. The handyman services receipt displays the information about the handyman e.g. name, contact information, the company he works for etc. The receipt also shows information about the client like; name, contact information, address etc. For authentication of the receipt has the date of issue and receipt ID.
The second part of the receipt shows detail about the services provided along with the price of each service respectively and the total amount for the services given. Also, the complete detail about the materials purchased, their quantity, the name of the suppliers, their respective prices and the complete price of the sum of all of the materials. In the end, the grand total of the services and materials is mentioned as the payable amount and the mode of payment.
PREVIEW & DETAILS OF TEMPLATE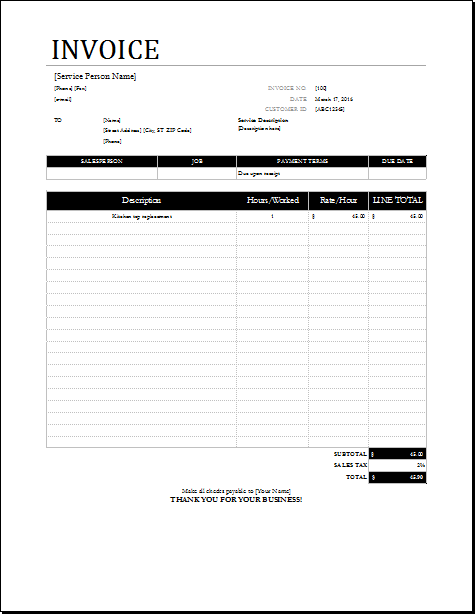 File: Excel (.xls) 2007+ and iPad 
Size 30 Kb   | Download
File: OpenOffice (.ods) Calc [Cal]
Size 15 Kb   |  Download
License: ENERGY  (Personal Use)
(Distribution) by Kate Elizabeth(CEO)