Halloween Letter/Cards Envelopes
Envelopes for Letters & Cards
Halloween envelopes can enhance the excitement of the holiday season this October. Those who are sending season's greeting cards should use special envelopes customized for Halloween. You can find a large variety of these envelopes. In addition, they are also available on the internet.
You can either use templates or create your own. Free templates can be downloaded, customized and printed in no time. It saves time as well as money. You can either keep them simple or make them funky. Use colored envelopes or plain ones. Special Halloween labels can also be used for an added effect. Such envelopes are great as a fun project for kids. Make them choose their favorite templates and customize them.
Likewise, you can also take ideas from the online templates and make your own. Spooky drawings or paintings can be made on these envelopes. You can also use Halloween stickers in case you want to save more of your time.
Children can use these envelopes to send greeting cards and letters to friends. On the other hand, grown-ups can also use them to mail stuff to their family or friends. For official letters, you can go for simple Halloween envelopes.
One small Halloween-themed picture can be printed at a corner of the envelope for such letters. On the other hand, for Halloween party invitation cards, you can go for a more dramatic effect. Use bold colors and various spooky images. Choose different templates for a greater variety. It is a very interesting project for the holidays.
Preview and Details of Template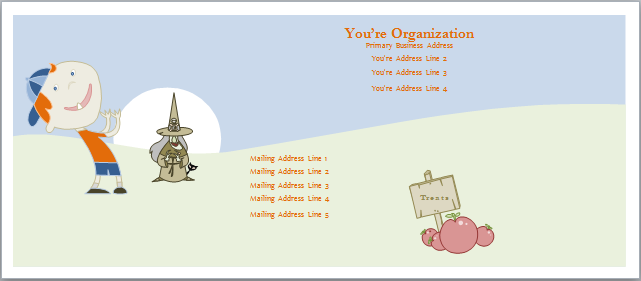 File: Word (.doc) 2007+ and iPad 
Size 915 Kb   |  Download
File: OpenOffice (.odt) Writer [Writer]
Size 111 Kb   |   Download