Grievance Letter Template
If you're at the workplace and observe something wrong going on, raise your voice, and show your concern. A grievance letter is a good way to do so. Grievance letters are used by employees to request the employer to take action on a certain issue. These letters are basically complaint letters. The issue, however, may or may not be related to the person complaining.
If you write a grievance letter to your employer, make sure that you're using proper discourses, proofs and arguments to back your grievance. Letters that are not convincing are not usually given any importance. Here are a few tips to follow while writing a grievance letter;
Use business letter format.
Explain your grievance in detail and how is it affecting you.
Avoid using unethical or harsh language as this may cause you harm by creating your bad impression.
Tell the reader how you have tried to solve the matter before passing it on to him/her.
Within a grievance letter, request the reader to arrange a meeting with you so that you could explain the addressed matter in detail.
It leaves a good impression if your grievance letter contains a suggestion for the employer on how to resolve the matter.
The most convincing part of grievance letter is where you insert references of employment law act (if any) that are being violated. If your raised issue has a direct or indirect relation with employment laws or policies, do mention them.
Since we know that if you're searching for grievance letters, you must be in genuine need, so we passionately want your voice to be heard. There are some professionally made grievance letters on our website that will help you write an effective grievance letter. Raise your voice, write the letter now!
Preview and Details of Template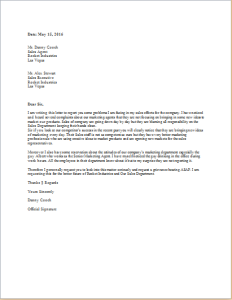 File: Word (.doc) 2007+ and iPad 
Size 36 Kb   | Download
File: OpenOffice (.odt) Writer [Writer]
Size 16 Kb   | Download
License: ENERGY  (General Use)
(Distribution) by Kate Elizabeth(CEO)