Generic Shopping List Template
Shopping List Template
If you have a forgetful nature and have a lot on mind to keep you pre-occupied, the shopping list can prove to be a very effective document. It can help you remain focused and remember the things that you need to buy when you go out to the market. There are a large number of individuals especially ladies you write down the items of the household on the shopping list to make it easier for them to remember the things.
It can save your valuable time and efforts if you know exactly what you want to buy and from where. It will also save you the hassle of going to the market again and again. Nobody likes to run back to the market many times and waste their time and money for returning back.
It is a common practice that when men are sent for grocery shopping they forget many things that are told to them. For such situations it is always advisable to have a shopping list. The sample said template can be downloaded from the internet and used according to your writing needs.
This is a very useful and helpful document that helps you draft any kind of shopping list. You simply need to assess the needs of your household and write down the things in the list template. Once your shopping list is ready you can go out to the market and purchase the things mentioned on it with ease and comfort.
---
Preview and Details of Template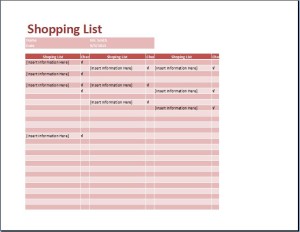 File:Excel (.xls) 2007+ and iPad
Size 20 Kb   |     Download
File: OpenOffice (.ods) Spreadsheet [Calc]
Size 39 Kb   |     Download
License: ENERGY   (Personal Use Only)
(Not for resale and distribution) by Kate Elizabeth(CEO)