Generic Savings Estimator Template
Savings Estimator
Planning to save your hard earned cash? Looking for a reliable tool to help you secure your savings? If you are, then you surely need the savings estimator from Microsoft Excel.
The Excel saving estimator template is a highly reliable tool for people who are planning to save their money and keep an accurate account over it. It comes equipped with lots of features through which you can easily determine how much money you are saving over the period of time.
About Template
The saving estimator is fully customizable and requires information in the form of dates from which you're planning to save, end dates, weekly, monthly and annual saving times. Just enter the details as per your saving needs and the software does the remaining work for you in an excellent way. You can also alter the details and enter whatever figure you want in order to know how much you should save on a weekly, monthly or semi-annual basis if you want to see the desired amount at the end of the year.
Another great feature of the saving estimator is its ability to provide visual aids. Through this unique feature, users can gauge how much they have saved versus the amount which is still needed for saving. After you put in the data, the software converts it into a pie chart to help you analyze various aspects of your saving process.
These features surely make the saving estimator template from Excel, a one of its kind tool for people who are planning to save their earnings.
Preview and Details of Template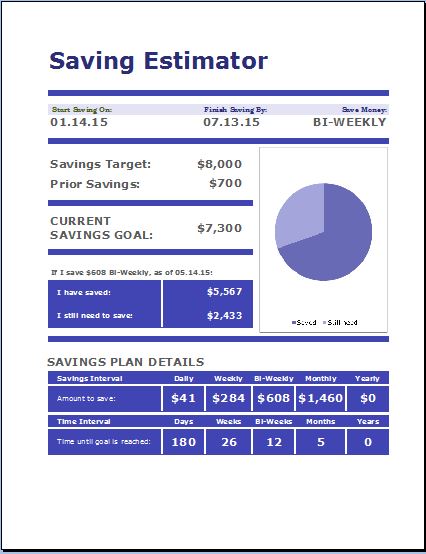 File:Excel (.xls) 2007+ and iPad
Size 36 Kb   |  Download
File: OpenOffice (.ods) Spreadsheet [Calc]
Size 22 Kb   |  Download