Generic Rental Agreement Form
Rental Agreement
Taking property and other assets on rent basis is a very common phenomenon. This is a legal contract between two parties, whereby one party is the owner of an asset while the other is the user of the asset. The first party is called the property or landowner and the other is the tenant. The tenant pays the owner a specified amount of money at regular intervals for using his/her asset. This amount is called rental payment. In many situations, the owners fear the loss of property and asset through misuse by the tenant. They also need to have a legal security so that their interest in the agreement can be safeguarded against any threats.
Need a Rental Agreement form?
A rental agreement is a legal court that gives the rental arrangement between two parties a legal standing. The conditions and clauses added in the rental agreement are enforceable by law. This is where the rental agreement form is necessary.
Benefits of a rental agreement form:
Some advantages of having a rental agreement are described and listed below:
This document reduces the worries of the property owner regarding their fears of loss and safety of property
The rights of the tenants and owners both are safeguarded
Any conditions and clauses written in the document are enforceable by law
The agreement is signed by both parties indicating their mutual understanding and consent
The risk is minimized for both the parties.
Preview and Details of Template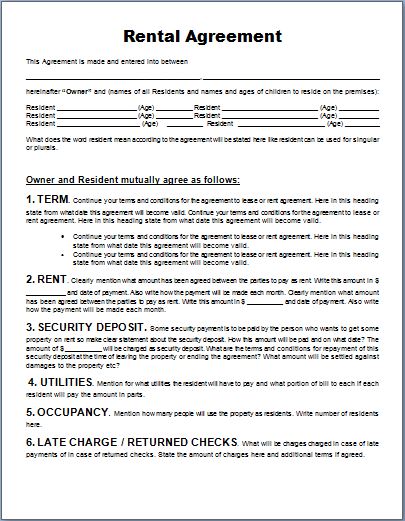 No. of Pages = 4
File:Word (.doc) 2007+ and iPad
Size 41 Kb   |   Download
File: OpenOffice (.odt) Writer [Writer]
Size 24 Kb   |   Download
License: ENERGY   (Personal Use Only)
(Not for resale and distribution) by Kate Elizabeth(CEO)