Gardening Budget Planner Template
Budget Planner
Gardening is always a joyful experience for people who love keeping plants and gardens in their surroundings. In fact, we all love the presence of beautiful flowers around us for refreshing our moods. It doesn't matter if you're keeping plants indoors or maintaining a large garden in front of your house, keeping an accurate account on your gardening budget can help you manage a beautiful garden for an extended period of time.
About Template
Gardening budget planner template designed in Microsoft Excel is an excellent tool for gardeners through which they can keep track of their gardening budget in a most effective way. It is a simple to download the template for people who have a hard time assessing their gardening budget. The template helps you organize a long list of items necessary for your home gardens. It helps you in organizing data regarding plants, flowers, shrubs, trees, grass, dirt and fertilizers which you need to buy.
The template helps you in preparing a budget to determine how much you have to spend on your gardening supplies. It facilitates you in comparing prices for different items from numerous vendors in your area. With the help of given template, you can create a balance between price and quality whenever you plan to buy supplies for your home gardens.
The template helps you arrange all of the data related to your garden expenses and automatically updates it to show how much supplies you need in a specific budget. Just download it from the information given below, enter the details and get the results you need.
Preview and Details of Template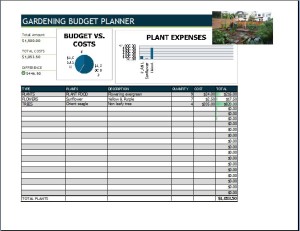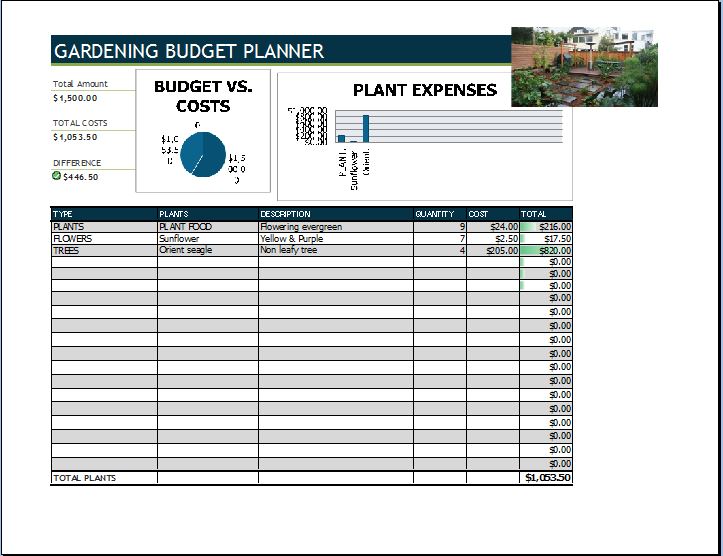 File:Excel (.xls) 2007+ and iPad
Size 53 Kb   |    Download
File: OpenOffice (.ods) Spreadsheet [Calc]
Size 39 Kb   |    Download
License: ENERGY   (Personal Use Only)
(Not for resale and distribution) by Kate Elizabeth(CEO)