Fully prepared Lease Agreement Template
Lease Agreements
Business entities use different types of financial instruments and methods to meet the needs of their funds and money requirements. Leasing is one such method that is used to obtain machinery or equipment or any other asset when you do not have enough money to buy that asset. Leasing allows you to obtain the desired asset on rent basis. You do not get ownership of the asset and pay a rental to use the asset. Some types of leases give you the option of getting the ownership of the asset at the end of the lease period.
The lease agreement is a basic legal document that formalizes the process of leasing between two parties. The lessor and the lessee must sign the agreement to make the deal effective and legally binding by law.
A lease agreement can be created by using a sample template. This is a very useful and handy document that can be downloaded from the internet. The template should include all the terms and conditions of the legal contract of the lease and should also mention the following details clearly:
Name of the lessor
Name of the lessee
Date of agreement
Duration and expiry date of the contract
The asset to be leased along with total value
Amount of lease rentals and number rentals to be made
Payment mode of the lease rentals
Other important terms and conditions
So next time you are looking for drafting such a contract just use the given agreement template to help you out.
Preview and Details of Template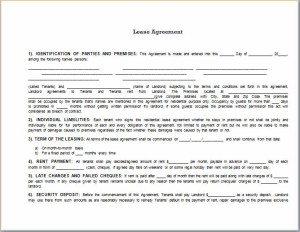 File:Word (.doc) 2007+ and iPad
Size 41 Kb   |    Download
File: OpenOffice (.odt) Writer [Writer]
Size 29 Kb   |   Download
License: ENERGY   (Personal Use Only)
(Not for resale and distribution) by Kate Elizabeth(CEO)