Freight Invoice
In a shipping business, there are different departments that are involved in all the process. So it is of great importance that a fine quality freight invoice template is used to make it possible that any kind of difficulty is avoided and the shipments are sent to the destinations safely. It is also of great importance that it is made sure that certain information about the company including the company whereabouts, contact information of company officials and the exact complete address of the receiving business or professional. If there are discrepancies found in the documentations, the shipped items will be stopped at some time and will not be delivered to the destination at least not in the given time.
About Template
Freight invoice is also known as shipping invoice in the business and shopping environment. This invoice for shipment just looks like a commercial invoice that is used by businesses dealing in shipments of different items and goods within a country or across the borders.
Freight invoice contains the information about the column of the unit price and line total in the body of the invoice and this invoice is different from packing slip invoice that usually does not contain such information. Although this invoice is available in different formats like Microsoft Word, PDF or other Microsoft office programs the format in MS Excel is more suitable because it is of great help in different complicated formatting can be done easily without any hassle and much effort. Moreover, Excel help in creating a relationship between various numerical difficulties and positions.
Preview and Details of Template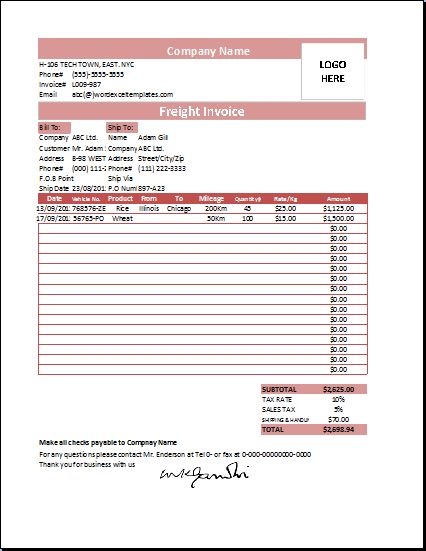 File:Excel (.xls) 2007+ and iPad
Size 46 Kb   |   Download
File: OpenOffice (.ods) Spreadsheet [Calc]
Size 32 Kb   |  Download
License: ENERGY   (Personal Use Only)
(Not for resale and distribution) by Kate Elizabeth(CEO)