Formal Telephone Conversation Tracker
Conversation Tracker
Phone calls are an important part of any organization. In fact, no organization can succeed in its goals without a proper channel of communication. Because of that, it becomes even more essential for businesses to keep track of their outgoing and incoming calls to assess their business potential. But maintaining an accurate account of these phone calls manually is almost impossible due to which you require reliable software or template to handle all your conversation tracking needs.
Conversation Tracker Template
The telephone conversation tracker template designed in Excel is a wonderful business tool. It is a free to use a template which can be instantly downloaded from the internet and made available for use. Through this effective template, you can arrange and analyze all your phone call data of the company in the easiest way possible. From outgoing and incoming calls, their duration, start and end times, call subjects to saving options, planning and many other uses, the conversation tracker has a long list of features for all business types.
The template provides great benefits to businesses through which they can record important calls and update their details regularly to remain informed about the communication process of the company. For businesses who are just starting to maximize their potentialities, or those who have already made a mark in the industry, the telephone conversation tracker template designed by our professional can be an essential tool for all their communication needs.
Just download it, provide the data that it requires and let the template automatically handle all your communication needs in a superb way.
Preview and Details of Template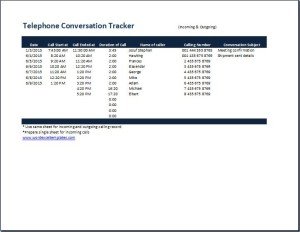 File: Excel (.xls) 2007+ and iPad
Size 22 Kb   |   Download
File: OpenOffice (.ods) Spreadsheet [Calc]
Size 17 Kb   |     Download
License: ENERGY   (Personal Use Only)
(Not for resale and distribution) by Kate Elizabeth(CEO)